Tezos price has faced a strong bounce off a multiyear trendline. XTZ is trading at $4.58 at the time of writing. If the bulls remain in control this year, $22 could become a valid XTZ price prediction by EOY.
What is Tezos?
Before we move on to Tezos price prediction, it's better to understand the underlying technology of Tezos blockchain. Tezos aims to be a self-amendable smart contract platform. The unique consensus mechanism of Tezos enables it to be upgraded without any risks of hard forks.
Tezos network is secured by a unique Liquid Proof of Stake (LPoS) consensus, which differs from most other blockchains. The transactions of the network are verified by validators who are called bakers. Unlike the other blockchains with similar architectures, anybody can become a validator on the Tezos network by fulfilling certain conditions. Bakers or validators also take part in network governance by voting. As per current architecture, 8000 XTZ is equivalent to 1 vote also called a role. At the current Tezos price, it's roughly equivalent to $32,000.
Founders of Tezos
The husband and wife duo, Arthur and Kathleen Breitman, launched Tezos by raising capital via an ICO in 2017. However, Arthur first published the Tezos whitepaper as early as 2014, describing a blockchain that could amend itself. In 2015, both founders launched Dynamic Ledger Solutions Inc. (DLS) to produce and own all Tezos related Intellectual Property (IP).
Owing to their Wall Street experience, the couple reached out to big banks for funding. However, most of the big banks turned them down. So, in 2017, they registered Tezos Foundation along with Johann Gevers as a nonprofit in Zug, Switzerland. Gevers was the initial Head of this organization.
Tezos History and Roadmap
Tezos ICO was one of the biggest ICOs of 2017, raising around $232 million in Bitcoin and Ethereum. However, months after such a big success, trouble occurred in paradise. The project had to face a power struggle between Gevers and the Brietmans. This battle significantly delayed the launch of Tezos blockchain to such a point that several ICO investors sued Tezos Foundation.
Johann Gevers resigned from Tezos Foundation in 2018. The foundation also had to ultimately settle with the ICO investors for a whopping $25 million in 2020. However, despite all the hiccups, Tezos launched its mainnet in 2018 with prolonged development. Currently, Tezos price is trading just above 4$.
Over the years, Tezos blockchain underwent several key protocol upgrades, owing to its unique consensus model. One notable upgrade was reducing the minimum XTZ amount for staking from 10,000 to 8,000.
Latest Tezos News Today
Despite having unique architecture and being backed by major capital, Tezos blockchain hasn't seen much adoption. This is also evident from the current Total Locked Value TVL of only $99.54 million on the network. This is almost 54% down from its 4th October 2021 all-time high of $217 million. This lack of TVL is also due to fewer Dapps on Tezos than the rival platforms. One primary reason could be the fact that Tezos blockchain has its own programming language called Michelson. This could be acting as a barrier for most of the blockchain developers, who prefer to code in Solidity or JavaScript.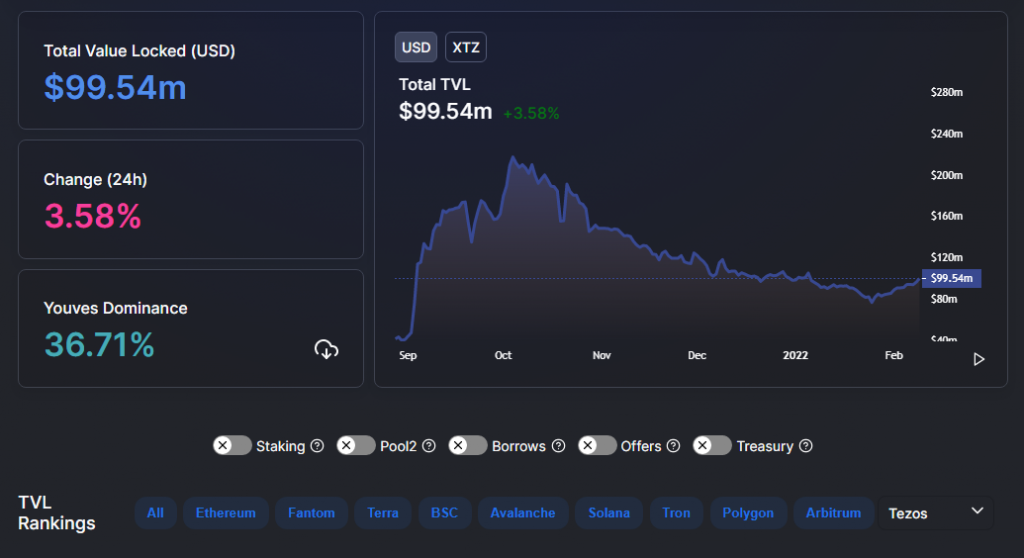 According to the latest Tezos News, the 9th protocol upgrade called Ithaca could happen in Q1 2022. If Ithaca gets implemented, Tezos could achieve near-instant finality while further reducing the minimum staking requirement to 6000 XTZ. This would make Tezos related exchange deposits and withdrawals much faster
Tezos Price Prediction 2022
Last year saw explosive growth in several smart contract platforms. Ethereum, Solana, Cardano, Fantom and Polkadot led this rally where their prices increased severalfold. However, the XTZ price chart shows that it has significantly underperformed compared to its competitors. On 4th October 2021, Tezos price reached its all-time high of $9.12, and its market cap hit $7.3 billion.
At the time of writing, Tezos price is $4.58, which is 50% down from its 4th October 2021 high. Tezos chart has been in a severe downtrend for the past four months. Nevertheless, a recent bounce off a multiyear trendline has given bulls a sigh of relief. This trend must sustain to increase investor confidence, as otherwise, the price might plunge into a multiyear downtrend.
If the recent trend continues, a simple pitchfork analysis places the Tezos price prediction 2022 at $22. However, this is dubious speculation considering that the current bullish wave prevails. It must also be kept in mind that the recent bounce from $2.54 aligns with the 0.786 Fib level. This Fib level comes into play by connecting the March 2020 lows to 4th October 2021 all-time high.
XTZUSD Price Chart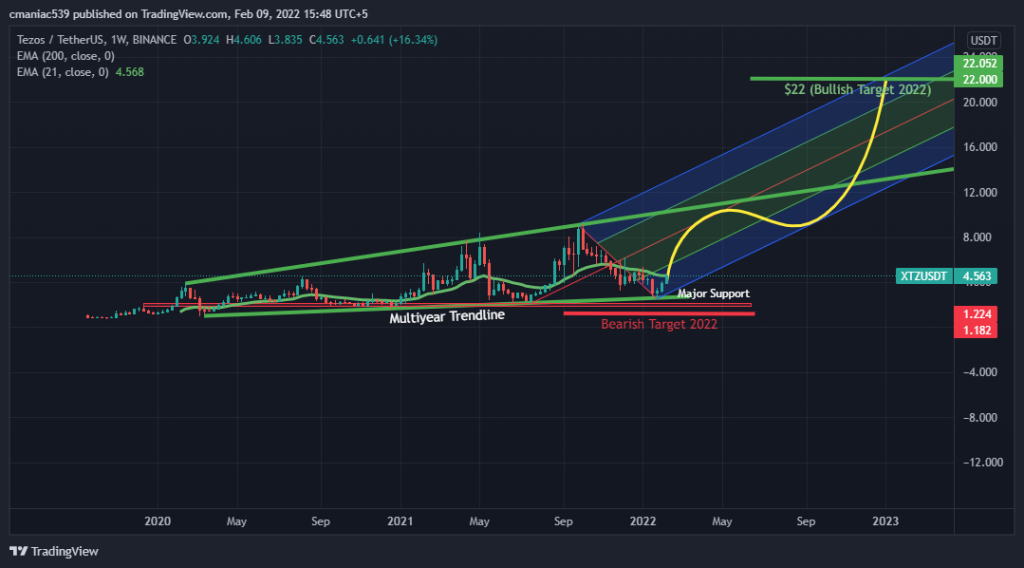 If Tezos price dips below the $2.54 level, bears might target a $1.8 area in the short term. However, if the bearish sentiment continues, $1.2 could also be on the cards.
Tezos Price Prediction 2025
After the January 2022 massacre in crypto markets, things are becoming more difficult for the bulls with each passing day. A multiyear bear market could be highly probable if the recent bounce doesn't hold and prices plummet. Such a situation is likely to affect all cryptocurrencies, including Tezos.
In a bear market scenario, Tezos price prediction 2025 of below 1$ seems quite fair. However, if the network adoption continues with rigorous development, XTZ may target the $26.6 level. This is also the 3.618 Fib level from March 2020 lows to October 2021 highs. XTZ price prediction would become valid only in the case of another crypto bull run by 2025.
Tezos Price Prediction 2030
It's pretty difficult to predict how the macro-financial situation of the world will turn out by 2030. It is even harder to speculate about the prices of a volatile asset class like cryptocurrencies. Nevertheless, we can still consider certain best-case and worst-case scenarios for Tezos Price prediction 2030.
Tezos is an L1 platform. We can try to derive its market capitalization by comparing it to its competitors around ATH. A conservative yet quite bullish case could be considering Tezos sitting at the market cap of Solana at ATH. Imagining XTZ at $77.3 billion (all-time high market cap of Sol) puts it at a price of a whopping $88. This could be a fair XTZ price prediction for 2030. It might head even further if the network activity explodes by then.
However, such a price target could only be achieved if Tezos blockchain gains traction similar to Solana by 2030. For that to happen, Tezos network would need to gain much more TVL by hosting much bigger and disruptive Dapps.
Is Tezos a Good Investment?
If you're confident about the fundamentals of the Tezos, the current price level is also not a bad entry. An even better idea would be to DCA and accumulate XTZ if it goes further down. However, if someone wants to buy XTZ for quick gains, that ship might have already sailed as Tezos price is 50% down from its ATH.