The Tesla share price has shaken off the disappointing end to the previous week by pushing 0.7% higher on the day. This uptick follows a bounce on the 828.50 support level.
Bloomberg had reported that CEO Elon Musk saw $61 billion wiped off his net worth year-to-date, as a relentless selloff on the Nasdaq 100 hurt tech stocks. The impending rate hikes by the Fed to kick off in March 2022, and geopolitical tensions were the factors behind the steep selloff, with the TSLA shares trading as low as $700 on 24 February, the date of the Russian invasion of Ukraine.
The previous week, Tesla made news by announcing it was opening its gigantic Berlin gigafactory plant. The company is already hiring massively and intends to begin deliveries of its Model Y vehicles in the coming weeks. This means that the company will have three giant plans to produce hundreds of thousands of vehicles every week.
The Berlin plant is an essential one for Tesla since it will serve the European and Australian markets. As a result, it will make the company's cars cheaper since it will not need to pay hefty taxes for all cars it delivers. At the same time, Tesla is expected to ramp up production in China as it seeks for a location of its second plant. In its most recent earnings, Tesla recorded revenue of $17.7 billion and a profit of $2.54 per share. For the current quarter, analysts expect that the firm's revenue rose to $17.6 billion and an EPS of $2.26.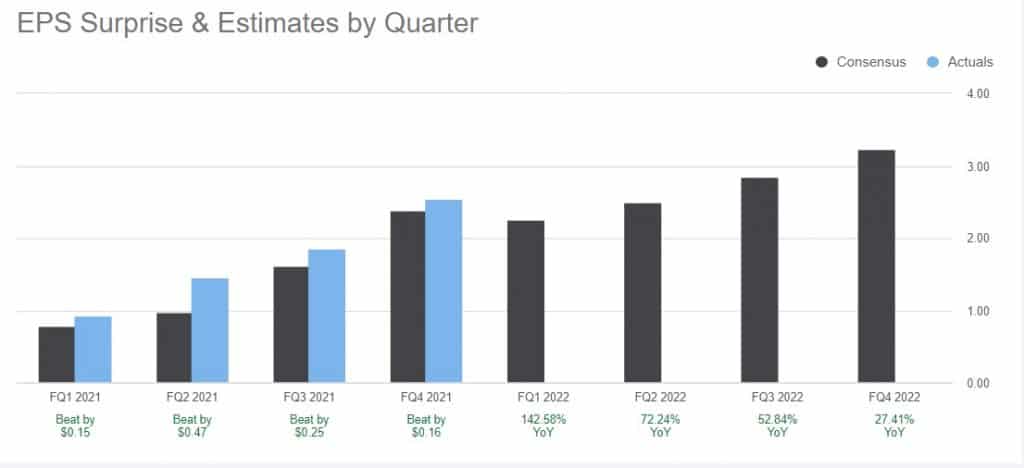 The Tesla stock price will also react to the latest earnings by Lucid, the fast-growing EV company. As a relatively new EV company, analysts expect it to record a loss for the quarter.
Tesla Stock Price Outlook
The price activity is approaching the resistance formed by the descending trendline, below the 902.94 barrier. These two levels must be uncapped by the bulls for a break to occur, setting the price activity on the path towards the 950.00 psychological price level (6 December 2021 low and 9 February 2022 high). Above this level, additional resistance is seen at 1025.26 and 1074.36 (8/23 December 2021 and 11 January 2022 highs).
On the other hand, rejection at the trendline or at the 902.94 resistance provides a potential pullback that targets 828.50 (27 January and 7 March lows). If the bulls fail to defend this price level, 779.23 becomes the next viable target. Further price deterioration will make a case for 726.65 (13 August high/3 September 2021 low) to become another potential harvest point for sellers who intend to profit off rejections at resistance areas above.
Tesla: Daily Chart