Tellor (TRB) price has shocked everyone after a monstrous price rally which seems to be unstoppable. Consequently, a new all-time high for TRB coin appears to be on the cards for the cryptocurrency whose price has been on a tear since August 2023.
The latest analysis shows that there is still more upside for the TRB crypto as the TRB/USD and the TRB/BTC pairs remain in an uptrend. On Wednesday, Tellor Tributes opened the day at $128.61 and closed with around 9% gains. This translates into an unfathomable 1238% surge from its August lows.
Analysts have been predicting the top for TRB for the past couple of months but the price has continued to surge. A massive short squeeze seems to be underway and more and more bears are getting rekt every day as the coin keeps making new highs.
Tellor Tributes is a decentralized oracle protocol that uses its native cryptocurrency TRB, to fund contracts that pay the data providers. As this suggests, it has a wide variety of uses across the whole decentralized finance.
Due to the recent surge is Tellor price, TRB has moved to the 122nd rank on Coingecko in terms of market capitalization. In addition, in the past 24 hrs, almost $100 million worth of the digital asset has been traded on different crypto bourses.
Tellor Price Prediction
It goes without saying that Tellor price prediction is looking fairly bullish after explosive growth in the last few months. There appears to be more upside for the coin as the current bullish push is supported by a strong volume. As a result, it is very likely that the bulls target a new all-time high in the coming days.
TRB is currently trading only 13% below its 2021 all-time high which means a new ATH is at a touching distance. However, the situation is different for the TRB/BTC pair which is still down more than 50% from its ATH. Therefore, a new ATH for the Bitcoin pair could cause the TRB price to double if the BTC price remains constant.
I will keep updating you on the latest TRB price action on my Twitter, where you can follow me.
TRB/USD Technical Analysis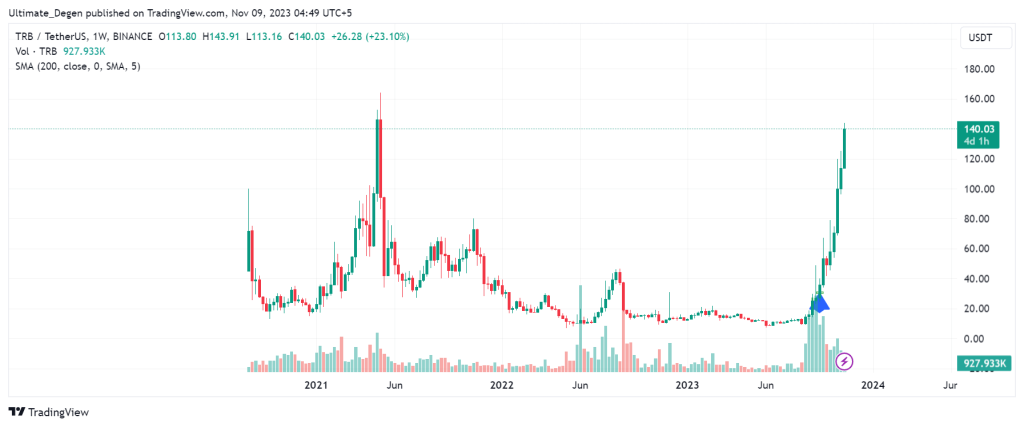 Article Sources
TRB Chart From Tradingview, https://www.tradingview.com/x/WACIC9d2/
Tellor Tributes ranking from Coingecko, https://www.coingecko.com/en/coins/tellor-tributes
Tellor official website, https://tellor.io/