After posting four consecutive losing sessions, the Teladoc Health share price looks set for a higher open this Wednesday. Despite the stock trading higher in premarket trading, it remains under pressure after last week's earnings report triggered a monumental slide in the stock.
It will be recalled that in late April, the Teladoc Health stock price fell 40.2% after the company reported Q1 2022 results that missed Wall Street's expectations. Ratings downgrades and price target cuts followed, sending the stock crashing. Teladoc reported an adjusted Q1 2022 loss of 47 cents per share, which was much larger than the adjusted earnings of 13 cents per share it notched in the same period a year ago. Its guidance for the second quarter was also pessimistic, as the company says it expects to suffer a loss per share of between 60 cents and 70 cents.
The new Teladoc Health share price target has a median price setting for 43.50, with high and low prices set at 141.00 and 25.00. The median price target gives a potential upside of 60.63% from the current price.
However, there is an increased likelihood that buyers may decide to seek for the best possible dip-buying entries before getting in.
Teladoc Health Share Price Outlook
The recent decline has put the 27.08 support (19 May 2017/16 November 2017 lows) in a vulnerable position. A breakdown of this support allows the 15.90 price mark (19 October 2016 and 28 December 2016 lows) to enter the fray as an additional support level. Below this pivot, 8.74 (28 March 2016 low) becomes a new target to the south if further price deterioration occurs. 
On the flip side, 27.08 must remain intact for the Teladoc Health share price to have the capacity to print a higher mark. The initial target to the upside is seen at 44.55 (9/27 March 2018 highs and 19 December 2018 low in role reversal). The 16 April 2019 low at 49.26 forms an additional northbound target. The 23 August 2019/23 April 2022 lows at 55.29 are a barrier after this point, before 71.43 and 87.55 form additional price targets to the north.  
Teladoc: Daily Chart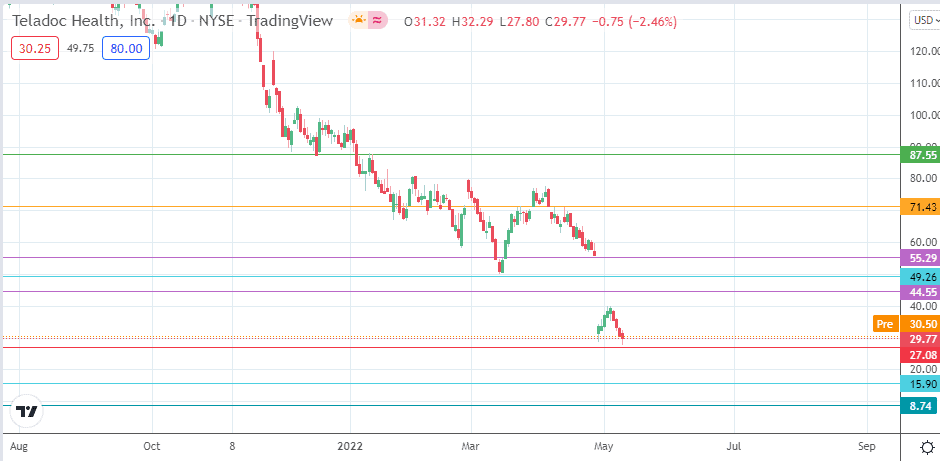 Follow Eno on Twitter.