Most Indian equities have been in a downtrend since the start of the year. Tata Teleservices share price has also lost more than 22% of its value since the start of the year. The ongoing Adani-Hindenburg controversy has further dried up the liquidity in Indian stocks. Nevertheless, on Wednesday, Nifty 50 and Sensex showed minor gains and closed at 0.85% and 0.63%, respectively.
Tata Teleservices Ltd is a major Indian broadband and telecommunications company that also provides cloud services in Mumbai. As the name suggests, it is a subsidiary of the well-known Tata Group. The company was founded in 1996 and is headquartered in Mumbai, India.
Tata Teleservices News Today
The market capitalization of Tata Teleservices is 140 billion Indian Rupees. According to the latest Tata Teleservices news, the company has reported a standalone loss of ₹280 million in q3 financials. During this tenure, the company also recorded a sales decline of ₹281.9 million. The reason behind this loss is the lower operating expenses and marginally lower finance costs.
Tata Teleservices Share Price Chart
The price chart of Tata Teleservices stock shows that the price experienced a blow-off top in January 2022. Since then, the price has been constantly making lower highs and lower lows. At the time of writing, price is trading at ₹71.25 which is 75% below its 2022 high.
Since the start of 2023, Tata Teleservices share price has plunged 22%. The price has also lost the key support level of ₹90 which was also the 2022 low. If the ongoing downtrend continues,, I expect the price to retest ₹53.45 level in 2023.
For a proper bullish reversal, bulls need to regain the ₹90 support once again. This support may now act as a resistance as the price has already faced rejection from it in January 2023. The price has is also trading well below the 200 day moving average that currently lies at ₹108.47.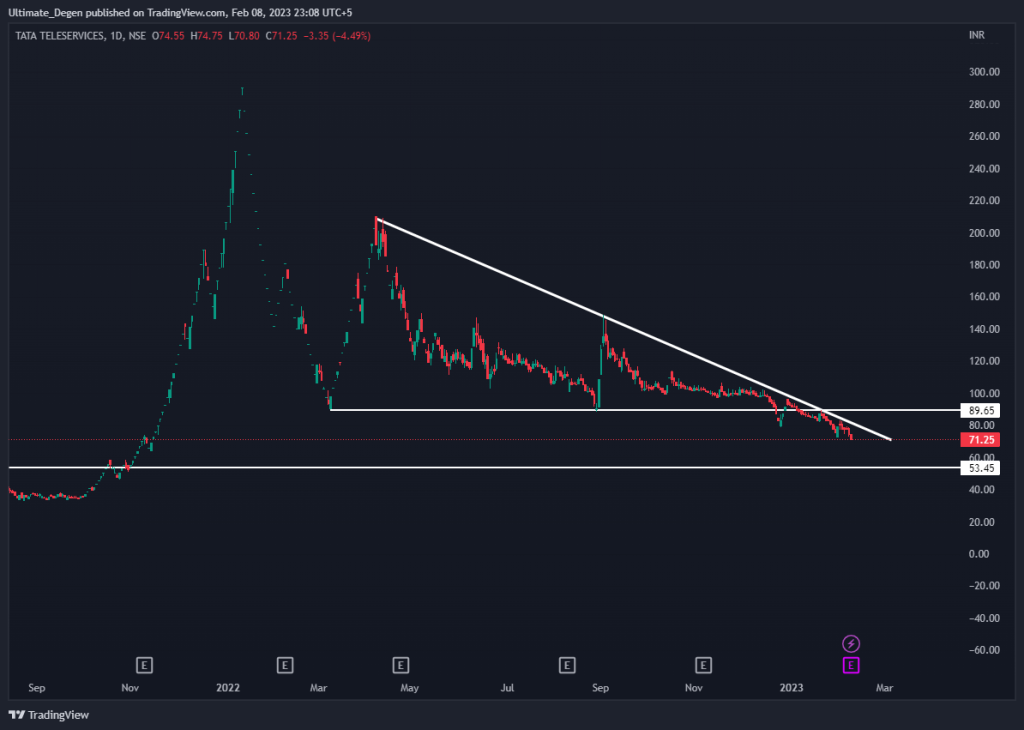 The reason behind the ongoing downtrend appears to be the bearish fundamentals of the company. The decreased sales and a net loss of ₹280 million is keeping the investors at bay. However, considering the history of Tata brand in India, the current price can be considered as a nice opportunity to accumulate for the long term.