Despite a slight uptick in Wednesday's trading session, reports that the Solana network was hit by an issue that created congestion in its network appears to be fuelling pessimistic Solana price predictions.
It all started from a Twitter post by Chinese journalist Colin Wu, who pointed out that there was a downtime in the Solana network at 2 am local time on Tuesday that got resolved a few hours later. Solana countered this claim, with co-founder Anatoly Yakovenko claiming that the network suffered some "congestion due to mismetered transitions".
Whether it was a mere congestion issue or a DDoS attack, buyers are staying off Solana at this time. Two previous DDoS attacks led to price dips on the SOL/USDT pair. It appears to be a case of "twice beaten, thrice" shy for investors. 
The SOL/USDT pair is up 0.23% in ultra-low volume trading this Wednesday.
Solana Price Prediction
The 168.46 is now under threat due to the bearish sentiment on the pair. A breakdown of this area allows the bears to make a run for the 150.24 support level. Below this area, the 129.87 support (31 August 2021 high and 20 September 2021 low) becomes the new target to the south.
On the flip side, a bounce on the 168.46 support allows the bulls to make a sprint for the 186.61 resistance mark. 197.52 and 219.21 are additional barriers to the north that become visible if the bulls can advance beyond 186.61.
SOL/USDT: Daily Chart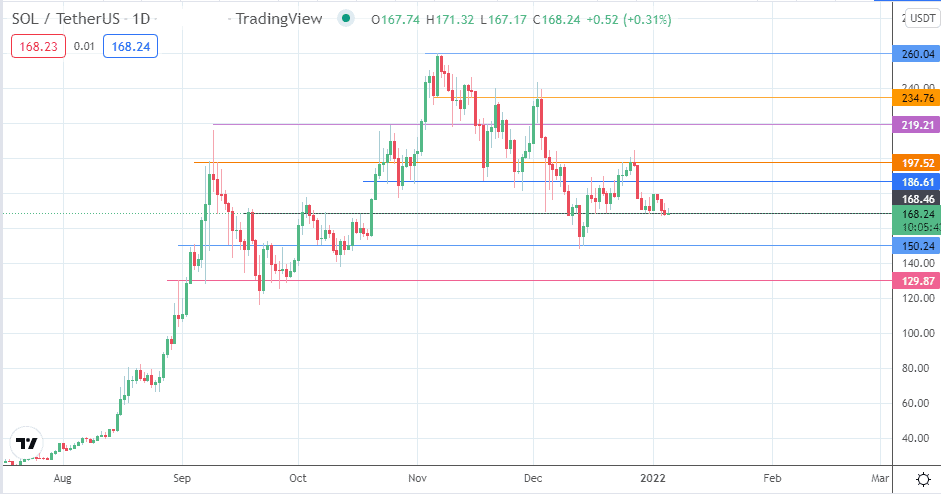 Follow Eno on Twitter.