Stellar Lumens (XLM) price started the year very strongly as the price surged by more than 60% till March 2023. After a sharp sell-off in May, XLM crypto tried to recover but failed to do so. Consequently, the price is now retesting the March lows. The latest analysis reveals that Stellar price may tank a lot if it breaches two key levels on its chart.
What is Stellar Lumens?
Stellar Lumens has always aimed to become the crypto-based global leader in cross-border payments. In other words, Stellar wants to replace payment networks like Money Gram and Western Union. Unlike most of its competitors, Stellar Lumens is trying to bridge the gap between the traditional banking system and cryptocurrencies.
It aims to achieve that by developing multiple fiat gateways across the globe. The project has already locked several fiat gateway partnerships across the world. However, due to Stellar Lumens' close ties with the banks, initially, it was considered a shadow project by the major banks. That was also why Stellar Lumens price couldn't perform that well in its early years.
However, this perception changed when the Stellar Lumens Team actively engaged in pro-crypto conferences while also trying to work with the regulators for broader cryptocurrency adoption. Over the years, Stellar Lumens has also developed several Fiat gateways. The project partnered with Money Gram in October 2021. In addition, it partnered with Argentinian and Chilean companies for the development of stable coins pegged to the respective local currencies in both countries.
Project Founders
Jed McCaleb and David Mazieres launched Stellar Lumens in 2014. Jed was also one of the founding members of Ripple. However, Jed left the project due to his opposing views on Ripple's roadmap. He was of the view that Ripple was becoming too decentralized, which was against the spirit of crypto. Ripple still remains the biggest competitor of Stellar.
Stellar Lumens was launched as a fork of Ripple in 2014 with more focus on decentralization. Initially, the cryptocurrency was called Stellar. However, the native asset was rebranded to Lumens (XLM) to avoid confusion with the project name, i.e. Stellar Lumens. A nonprofit Stellar Development Foundation runs all the project development.
Roadmap for 2023
Unlike other major layer 1 platforms, the adoption stats of Stellar are lagging. Nevertheless, the project has big plans for 2023. Stellar Lumens will be focussing on developing more building blocks to enhance network utility. Other upgrades include wallet tools, decentralization, scalability enhancement, etc.
The current architecture of the Stellar Lumens network only supports 1000 transactions per second. However, this speed will not be enough if Stellar intends to become the go-to solution for cross-border payments. Therefore, the Stellar Team is working on increasing this throughput to 5000 transactions per second by the end of 2022 while also developing a Layer 2 solution known as Starlight.
Proper smart contract functionality is also on the cards in 2023 for Stellar, as the network needs a DeFi ecosystem to gain more TVL. The 2023 roadmap for the top crypto project suggests that the current year will be filled with a lot of Stellar Lumens news.
Stellar Lumens Total Locked Value (TVL)
Stellar Lumens network is way behind most of the major Laye 1 platforms. Thenwtrork is also lagging in on-chain activity and the Total Locked Value (TVL). As per DeFi Llama, currently, there is only 19.54 million TVL on the Stellar blockchain. The top 10 blockchains currently hold more than $250 million TVL each.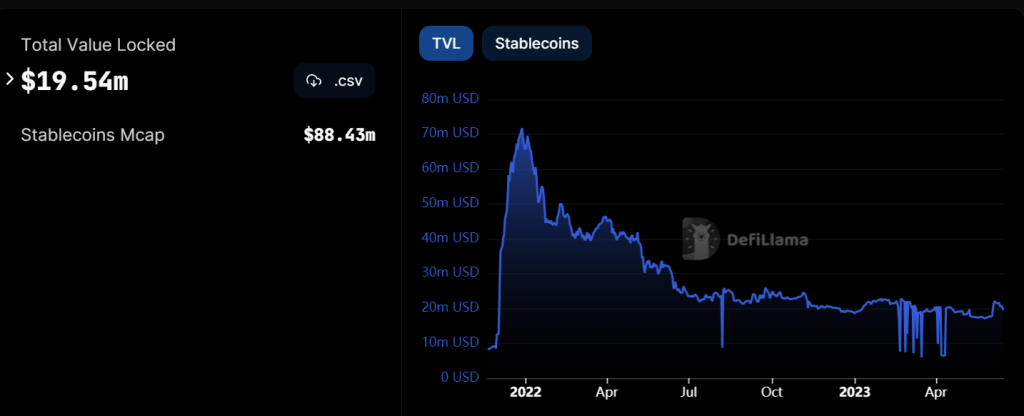 Stellar Price Prediction 2023
Stellar Lumens price prediction 2023 is not looking bullish as the price has been in a tailspin for the past few weeks. XLM price has broken below the 200 MA, which currently lies at $0.0886. If it fails to bounce from the $0.066-0.070 support, then a retest of 0.026 level could be on the cards, which is 58% below the current price.
XLMUSD Daily Price Chart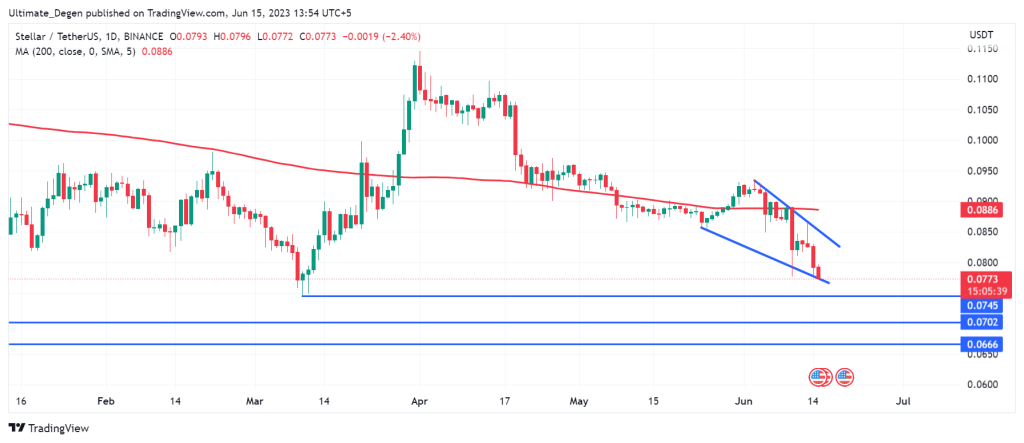 Considering the overall market sentiment of crypto and the Fed's upcoming hike in interest rates, a new ATH for XLM price seems to be highly unlikely in 2023, and a target of $0.055-$0.05 seems more probable.
In the meantime, you are also welcome to follow me on Twitter to keep track of my personal trades and the latest analysis on XLM price.
Stellar Lumens Price Prediction 2025
Since cryptocurrencies are one of the most volatile asset classes on the planet, any long-term price projections could be anybody's guess. Nevertheless, some algorithm-based sites have generated some predictions. For example, data from Digitalcoin and Wallet Investor puts Stellar Lumens price prediction 2025 to be anywhere from $0.5 to $1. Any clear break above Jan 2018 all-time high of $0.93 could also send the price to as high as $1.49, which is the 1.618 Fib level of the retracement from ATH to March 2020 low of $0.027.
Mass adoption and development would be the major factors determining the XLM price in the coming years. If Stellar's ongoing Central Bank Digital Currency (CBDC) pilot project with the Ukrainian government goes well, then XLM price prediction could go substantially above its previous ATH.
XLMUSD Monthly Price Chart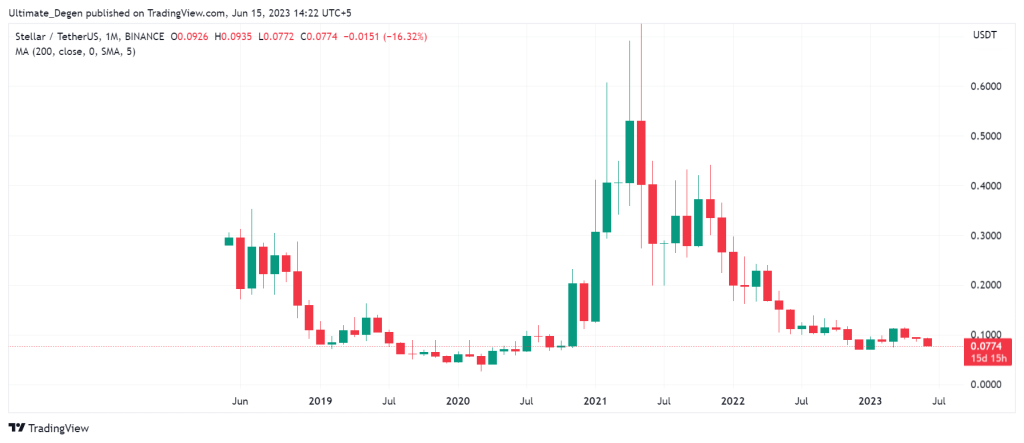 Stellar Lumens Price Prediction 2030
The project partnered with Money Gram in October 2021 for cross-border remittance-related transactions. The project is currently in pilot in the USA and will spread to 11 other countries soon.
If all Money Gram outlets adopt XLM for payments, it might become one of the biggest fiat on-ramps in crypto. Such massive adoption could send the Stellar Lumens price to Stellar. Furthermore, prices as high as $5-$6 could be on the cards. It is to be noted here that the crypto prediction site Price Prediction has also set Stellar Lumens Price Prediction 2030 from $5.13 to $6.26.
Any XLM price prediction depends on the macro-financial environment as well. That is because, besides volatility, regulatory crackdowns against all cryptocurrencies will always remain on the horizon. Such a drastic measure, if taken, could send the whole crypto market into a multi-year downtrend.
Should I buy Stellar Lumens?
In light of the information presented above, the Stellar Lumens price seems to be in an intense downtrend. Apparently, there could be much better opportunities to accumulate the XLM crypto in the ongoing bear market.
Therefore, Stellar could turn out to be a much sought-after asset in the much-anticipated bear market. Therefore, this could be an even better time to accumulate XLM by DCA. Currently, you can purchase XLM from all major exchanges like Coinbase, Binance, Kracken, etc.