The BP share price has rocketed to the top 5 of the gainers' chart of the FTSE 100 index, buoyed by Wednesday's big move on oil prices. Brent crude surged 1.92% on Wednesday after solid demand followed a drawdown in US oil stocks, as reported by the American Petroleum Institute.
Crude oil prices have been on the upswing after two powerful storms knocked off half of the oil production in the Gulf Coast for the second week in a row. Gulf Coast production accounts for about a fifth of US oil production, and with Hurricane Nicholas passing through the region a few days after the damage from Ida, the supply shortfall is creating a surge in oil prices and the BP share price.
The BP share price is up nearly 2% as of writing.
BP Share Price Outlook
The BP share price surge comes off a break and pullback move on the upper boundary of the symmetrical triangle. If the daily candle can close above the 303.95 resistance with a 3% penetration, there will be room for price to target the 312.30 price mark (11 August high). 319.45 and 328.75 are additional upside targets that become relevant if the price advance continues.
On the other hand, bears would find some joy if the BP share price declines below 296.10. This move would negate the pattern and open the door towards 287.70. A further decline brings 277.65 into the picture. However, with supply concerns still prevalent in the market, declines may become dip-buying opportunities. 
BP Share Price (Daily)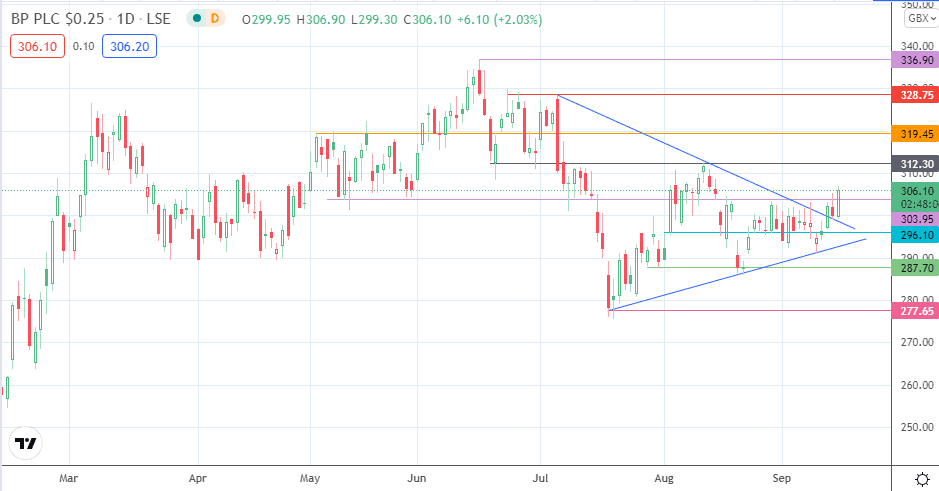 Follow Eno on Twitter.