Solana was created as a public base-layer blockchain protocol to facilitate the building of decentralized applications and smart contract hosting in a censorship-resistant environment.
The Solana price prediction for 2022 and 2025 is showcased in this piece, and analyzes if Solana is a good investment going forward.
Solana was the first blockchain project that used the Proof-of-History (PoH) as its consensus mechanism. Solana is capable of processing 50,000 transactions per minute. Low transaction costs, scalability, and transaction processing speed are the Solana Protocol's three advantages to the space. Solana also uses a Proof of Stake (PoS) consensus algorithm to secure the network.
Solana Coin Founders
Anatoly Yakovenko is credited with being the founder of Solana. Solana Labs was birthed in 2020 after a three-year development process when Yakovenko started Solana Labs with a colleague of his at Qualcomm, Greg Fitzgerald. Several other colleagues joined the project thereafter.
The Solana Road Map
The concept for Solana dates back to late 2017, when founder Anatoly Yakovenko published a whitepaper. This whitepaper detailed a new timestamping technique known as the Proof of History (PoH) to facilitate scalability. This factor is critical to the function of Solana. It gives it an outstanding advantage over Bitcoin and Ethereum, where the relatively slow consensus speed limits scalability. In addition, the new PoH timestamping technique provides for automation of the transaction ordering process for blockchains.
The original internal testnet was launched in 2018 with a demo version. In the second quarter of 2018, Solana Labs embarked on a fundraising campaign for its new crypto network. Using various private token sales, the team raised $20m between April 2018 and July 2019, which made up Series A fundraising. During this time, Solana Labs continued churning out several permissioned testnet phases.
In February 2020, the public incentivized testnet known as the Tour de SOL went live. Solana Labs also raised an additional $1.76m in a token auction on CoinList, and by March 2021, the Mainnet Beta was launched.
Things took off for Solana in 2021 when Sam Bankman-Fried, founder of the FTX crypto exchange, decided to host the exchange on Solana and not Ethereum. The decision was made due to Solana's low operational cost and high speeds. In addition, the crypto boom of 2021 fuelled new initial exchange offers and new initial decentralized exchange offers. The explosion in DeFi sent the cost of transactions on Ethereum soaring and made Solana the go-to platform for hosting these projects. At the same time, Solana's token SOL saw a massive increase in its value, soaring from less than a dollar at the start of the year to an all-time high of $259.90 in November 2021, a remarkable 15,000% gain.
Solana Labs is yet to release a roadmap for 2022.
Solana's Adoption Statistics
Presentations showcasing Solana's adoption were made at Breakpoint Solana 2021, the first blockchain conference hosted by Solana Labs in Lisbon, Portugal.
Metaplex, which is Solana's NFT marketplace, is presently doing over $32m worth of NFT transactions a week.
Solana has more than 1.3m active accounts, with more than 38 billion transactions.
More than $15.23 billion has been locked into DeFi projects as of 7 November 2021.
$37.9 billion transactions have been handled to date.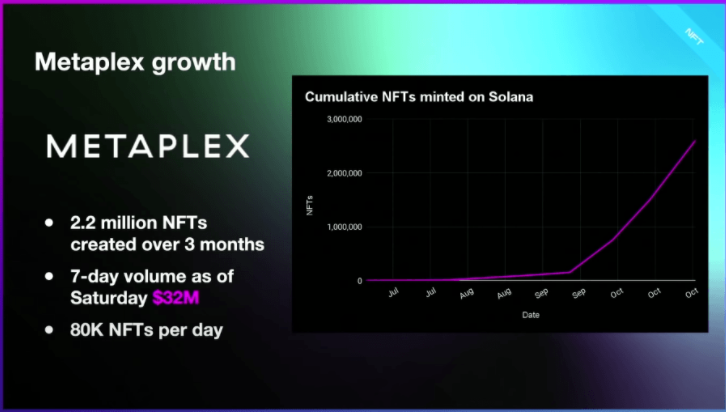 According to CEO Yakovenko, Solana Labs targets 1 million developers on its platform. Its first hackathon event drew 100 participants. At Breakpoint Solana 2021, there were six times that number. Solana's adoption statistics are trending in the right direction.
Solana Foundation continues to host various events for developers and the public. The latest event is the Solana Foundation/Neon Labs Hacker House. This event is a 6-day fiesta in Moscow on 22 February and follows a recent Solana hacker house event in Dubai.
This latest event will feature educational programming that talks about NFTs and DeFi, presentations from partners, and ample time for project work and networking.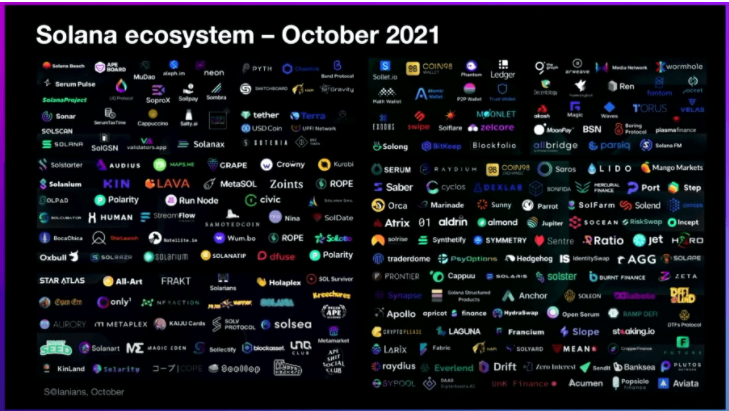 Latest Solana Prices Today

Solana Price
$23.56
Price Change 24h
+$0.1421
24h Low: / 24h High:
$23.09 /

$24.22

Trading Volume 24h
$396,463,703
Market Dominance
0.81%
Market Rank
#9
Market Cap
$9,529,707,099
Fully Diluted Market Cap
$13,047,934,101
7d Low: / 7d High:
$23.09 /

$25.59

30d Low: / 30d High:
$18.50 /

$30.06

All Time High: Nov 06, 2021 (2 years ago)
$260.06
All Time Low: May 11, 2020 (3 years ago)
$0.5052
Solana ROI
10608.12%
Last Update
2023-08-02 10:41
Solana Price Prediction 2022
The Solana price prediction 2022 is a medium-term outlook for the SOL/USDT pair.
The weekly chart of the SOL/USDT pair shows that the bounce on the 79.37 support coincides with the end of the measured move from the completed head and shoulders pattern on the weekly chart. The active weekly candle's bullish move came off a bounce on the 79.37 support by the previous weekly candle, which formed a hammer and provided the basis for a bullish outside day candle. The immediate resistance comes in at the 116.40 price mark (20 September 2021 low). This barrier and the 129.87 resistance (27 September 2021 and 10 January 2022 lows) are expected to be the limiting barriers to further recovery of the SOL/USDT pair in the medium term. Recovery towards a price target of between $170 and $203 depends on the ability of the bulls to uncap these barriers.
The crypto market suffered another crash on 20 February 2022. However, the Solana price today has recovered some ground from this crash. The slump in price has taken out the support at 97.04. Attempts at a price recovery above this level have not yielded fruit, as rejection occurred on the 21 February candle.
Those who wish to reacquire Solana tokens would ideally have to do so off immediate support, which presently comes in at 79.37. The crash suffered recently does two things. Firstly, it allows active holders of the SOL token to apply dollar-cost averaging techniques, which will enable them to add more positions at a lower price and reduce the overall cost of their position. Secondly, those who exited at a higher price or who never got any exposure during the initial bull run of Solana can do so as the price is now at an attractive price area.
There is still the possibility of a further drop below 79.37 if the bearish price action overwhelms this support. This outlook would make for a bearish Solana price prediction 2022 and bring in a new downside target at 65.27.
Solana Price Prediction 2025
The monthly chart presents the long-term outlook for Solana over several years. The chart shows that the trend for Solana remains bullish, and the downside seen between November 2021 and January 2022 is a correction within the long-term uptrend. Therefore, the Solana price prediction 2025 is bullish, as the network has all the growth metrics trending in the right direction. The recovery displayed in the current week when other cryptos are lagging is a testament to that point.
If the bulls can force the Solana price above the all-time high of 259.90, the door will be open for a Solana price prediction of 334.37, 402.96 or 438.77 as medium-term price targets by 2025.
SOL/USDT: Monthly Chart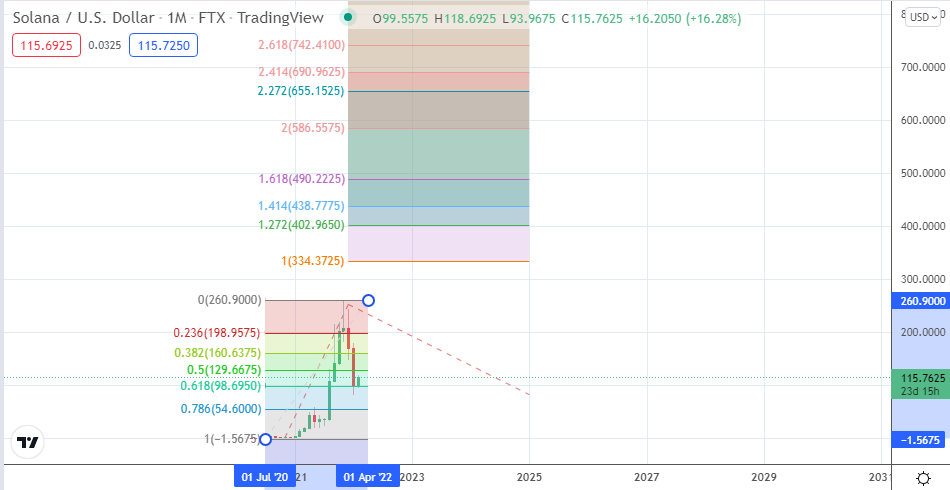 If the bulls fail to exceed the current all-time high, the Solana price could trade between the current 61.8% Fibonacci retracement mark at 98.69 below and the all-time high at 259.90 above. It is currently hard to see Solana going below the current three month low at 80.67. Still, if the price action breaks below the 61.8% Fibonacci retracement, then 54.60 comes into view as the 78.6% Fibonacci retracement level.
Therefore, traders who want to trade based on the Solana price prediction 2025 outlook should realize that the price action has a wide spectrum within which it can move. Any entries at current prices may have some drawdowns in the short-term but have a good capacity for recovery in the medium-term and long-term.
Is Solana a good investment?
Before considering if Solana is a good investment or not, here is what you need to know about it.
Solana's platform has multiple utilities. It can be used to host trading platforms, create non-fungible tokens (NFTs), pay for goods and services, perform smart contracts, and access opportunities in decentralized finance. Solana's network can process 13 transactions per second, which is more than double the number of transactions that are possible on the Bitcoin network.
Transaction fees on Solana are also some of the lowest. Solana charges $0.00025 per transaction, whereas a typical transaction at the height of the crypto boom in 2021 was $30 on the Ethereum network. This factor alone made it very expensive to conduct Defi transactions or buy into initial offers (IDOs and IEOs) with Ethereum. On the other hand, a transaction between wallets costs $30 on Ethereum and a fraction of this figure on Solana.
Features like these are what make Solana one of the most attractive blockchains around. Alfprotocol is one of the projects building on the Solana-based protocol and in a recent interview, CEO Matas Saucinas said he wanted Alfprotocol to be the DeFi homepage on the Solana blockchain.
The latest Solana news is that the price has swung to the upside by more than 10% this week after recovering $325 million from the Wormhole DeFi hack. This theft was the largest DeFi hack in history, but thanks to the collaborative effort of quant firms and Jump Crypto, the stolen funds were recovered.
Solana suffered a drop when the hack was first reported.
The positive from this event is that it is getting more difficult for hackers to hide or spread out stolen cryptos. This should be good news for tokens like Solana, which is battling Ethereum for bragging rights as the number 1 DeFi-compliant crypto. This also makes Solana a good investment for the medium and long term.
How to Buy Solana?
There is a straightforward answer to the question of how to buy Solana. It is available on every major crypto exchange. Being paired with the US Dollar and a host of stablecoins means using the greenback, Tether, Binance USD, and other compatible cryptos to purchase Solana. The Basic trade functions allow you to exchange your cryptos for Solana at market price, while the Advanced trade functions allow you to use market or limit orders to get your Solana tokens. The Advanced function works best in high volatility, so you do not suffer a slippage.
SOL/USDT: Weekly Chart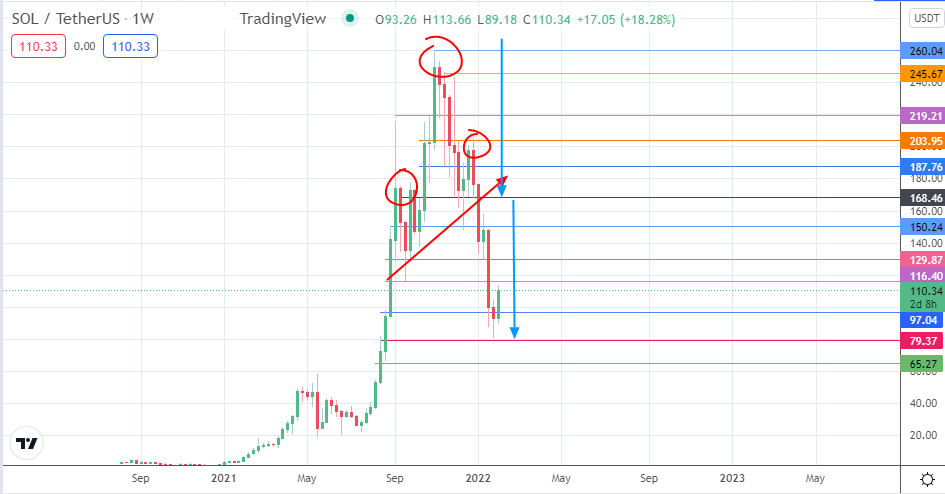 Follow Eno on Twitter.