Wednesday's 6.95% uptick seen in the SOL/USDT pair has restored confidence in the pair's ability to fulfill bullish Solana price predictions. However, the pair seems more likely to touch $97 than the initial target of $116, following a lack of momentum to complete the wedge pattern decisively.
Solana's ascent has come in the form of a break of the falling wedge pattern on the daily chart. At a time when the crypto market has responded more to geopolitical events than market fundamentals, Solana's extreme price move compared to that of its peers on Monday may have been a response to its upcoming world tour. 
A Solana-powered decentralized exchange has launched a long-awaited upgrade on the fundamental side of things. Raydium has introduced a smartphone-compatible version of its network in its V2 upgrade. This upgrade also features a fresh user interface, improved navigation, and more incredible speed. This event is not expected to impact price action in the short term.
So far, the asset has not kept pace with the gains made by other major tokens on Wednesday. These gains have been more of incoming demand after prolonged selling and not necessarily the fundamentals. This has made the $97 mark a more feasible target than the initial mark of $116.
Solana Price Prediction Outlook
The initial breakout from the falling wedge failed to attain the measured move. The subsequent pullback blossomed into a full-scale selloff which railroaded 97.04 and settled at the extended wedge's lower border at 79.37. The price needs another liftoff from here to take out the 97.04 resistance. This move is what will provide access to 116.40. 129.87 and 150.24 are likely destinations for the latest recovery run if the 116.40 barrier gives way.
On the flip side, only a decline below the 24 February low at 79.37 allows for a subsequent drop towards the 65.27 support level (25 August 2021 low). The 18 May 2021 low at 56.38 is an additional target to the south if the decline is more extensive.
SOL/USDT: Daily Chart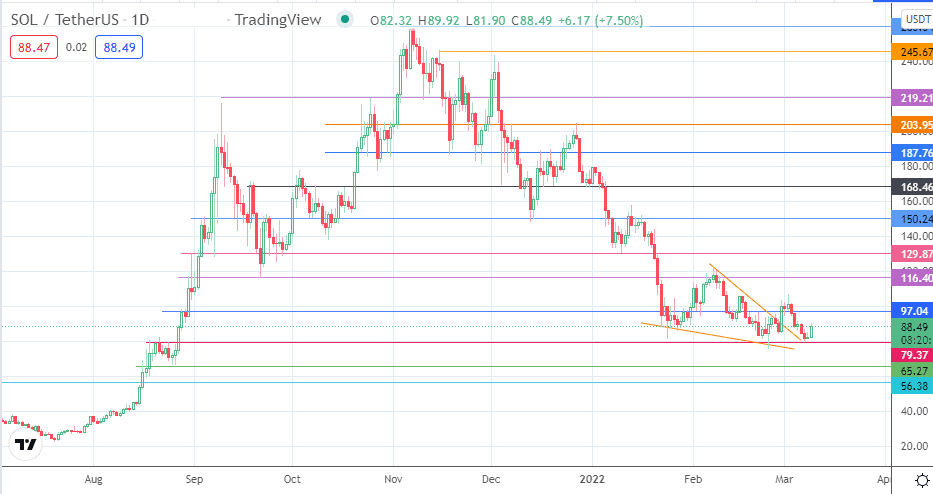 Follow Eno on Twitter.