Solana price dropped to an important support level on Monday as cryptocurrencies slipped. The SOL token plunged to the support level of $30 as concerns about the Federal Reserve rose. It then pulled back slightly to the current level of $32, giving it a market cap of over $11.50 billion.
Solana ecosystem challenges
Solana price has been in a strong bearish trend in the past few days as its price crashed from a high of $40 to about $30. This decline accelerated after last week's Merge event. While The Merge was successful, the coin dropped as the hype surrounding it cooled. Indeed, most coins like BTC, Ravencoin, and Ethereum itself plunged.
Solana price has also pulled back amid significant ecosystem challenges. Recent data shows that its ecosystem has been having challenges for a while. According to DeFi Llama, the total value locked in the ecosystem has crashed from over $10 billion to about $1.3 billion. The biggest DeFi apps in Solana are Solend, Marinade Finance, Raydium, Atrix.
Additional data by Cryptoslam revealed that the volume of Solana NFTs has crashed hard recently. They dropped by 18% in the past 24 hours to just $2.7 million. Meanwhile, the number of Solana stakers has crashed to 572k, which is lower than the month-to-date high of 627k.
Focus now shifts to the upcoming Federal Reserve meeting that starts on Tuesday. Analysts are expecting a jumbo 0.75% rate hike and a commitment to quantitative tightening (QT) by the bank. Historically, cryptocurrencies tend to underperform in a period of high-interest rates.
Solana price prediction
The four-hour chart shows that the SOL price has been in a strong bearish trend. On Monday, it declined to the important support level of $30. It has moved below the 25-day and 50-day moving averages. A closer look shows that it has struggled to move below this support level this year. As such, it has formed what looks like a double-top pattern whose neckline is at $38.96.
Therefore, I am cautiously optimistic that Solana price will bounce back as buyers target the neckline at $38, which is about 20% above the current level. A drop below the support level at $30 will invalidate the double-bottom pattern.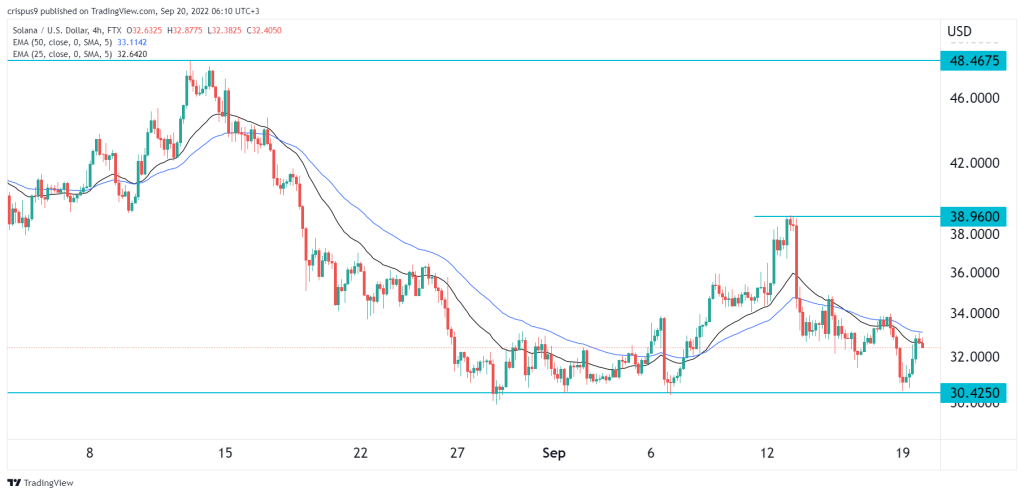 SOL support and resistance
The bullish view is also supported by InvestingCube's S&R indicator. As shown below, the indicator, which is one of the most accurate, estimates that SOL price could rise to $39.3 followed by $42.5. The stop-loss for the trade is at $26. Subscribe to the indicator for signals on key assets like Bitgert, JasmyCoin, EUR/USD, and BNB.