The SOL/USDT pair may be up 2.89% on the day, but this move is yet to make bullish Solana price predictions stick. The current resistance at 186.61 has been tested twice before, and it did not yield. However, if you were able to catch the move at the 168.46 support, you may have been able to bank some quick profits from the 2-day upside move.
What could be responsible for the modest recovery in the SOL/USDT pair? There is some news from China which suggests that the state-owned Xinhua News Agency may be launching its first NFT collection, despite the massive crackdown embarked on by Beijing against the crypto market.
The NFT collection which is titled the "News Digital Collection", showcases a photo collection taken by photo journalists, covering events such as the centennial celebration of the Chinese Communist Party.
The announcement may have triggered some demand for NFT platforms such as Solana, but demand is muted as traders watch for Beijing's response to the launch.
Solana Price Prediction
The SOL/USDT pair is testing the resistance at 186.61. A break of this level opens the door for the bulls to aim for 197.52. Above this level, 219.21 and 234.76 are additional price targets to the north. The 6 November high at 259.90 remains the all-time high for this pair.
Conversely, failure to break the 186.61 resistance allows the 168.46 support to come into the mix as a potential target to the south. If there is further price deterioration from this point. 150.24 and 129.87 could become additional downside targets.
SOL/USDT: Daily Chart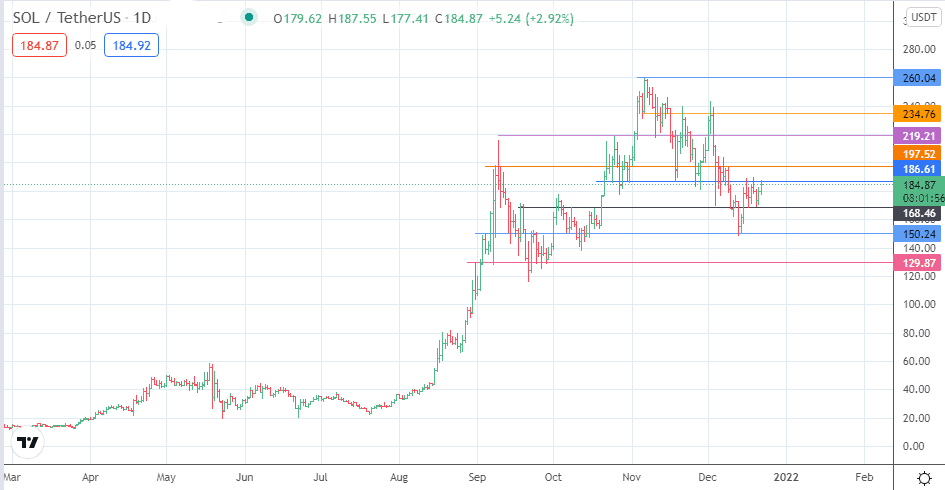 Follow Eno on Twitter.