Solana (SOL) price has performed very well in 2023. The smart contract platform has made a strong comeback this year after a turbulent 2022. In the last two years, SOL crypto has really established itself as one of the most developed layer 1 smart contract platforms.
What is Solana?
Solana is a smart contract platform that allows developers to build decentralized applications on top of it. Most of the dapps on Solana are programmed in Rust programming language, which makes it different from Ethereum, where most of the dapps are built in Solidity. Solana aims to become a fast and scalable layer 1 network. Nevertheless, Solana price prediction depends on the adoption and development of its ecosystem.

What is Solana price?
The current price of Solana (SOL) is US$15.171, with a market capacity change in the last 24 hour of %-15.3513. SOL changed in the last 24 hours with -15.379 per cent. It is currently -28.2417546% from its 7-day all-time high of 22.285$, and -28.2417546% from its 7-day all-time low of 13.379$. SOL has a circulating supply of 549,749,809.73 SOL.
Solana Latest News
Solana is the 11th biggest cryptocurrency in terms of market capitalization. According to the data tracking site, Coingecko, the current SOL price puts it at a market cap of $7.6 billion. As per the latest Solana news, it has become the first-ever blockchain network to integrate artificial intelligence via Chat GPT plugging developed by Solnana Labs.
It has also rolled out an AI accelerator program to speed up the development and integration of AI applications on Solana blockchain network.
Latest Solana Prices Today

Solana Price
$15.20
Price Change 24h
-$2.8492
24h Low: / 24h High:
$13.38 /

$18.00

Trading Volume 24h
$1,279,016,957
Market Dominance
0.58%
Market Rank
#10
Market Cap
$6,052,674,080
Fully Diluted Market Cap
$8,353,792,246
7d Low: / 7d High:
$13.38 /

$22.28

30d Low: / 30d High:
$13.38 /

$22.28

All Time High: Nov 06, 2021 (2 years ago)
$260.06
All Time Low: May 11, 2020 (3 years ago)
$0.5052
Solana ROI
6807.10%
Last Update
2023-06-10 18:52
Solana Chart
SOL/USD price chart shows that the price is in the midst of recovery after a brutal collapse in 2022. The bankruptcy of its biggest backers, FTX and Alameda Research, put the top layer 1 platform in a very tough spot. However, the price has significantly recovered since then and is now trading 118% above its December 2022 lows.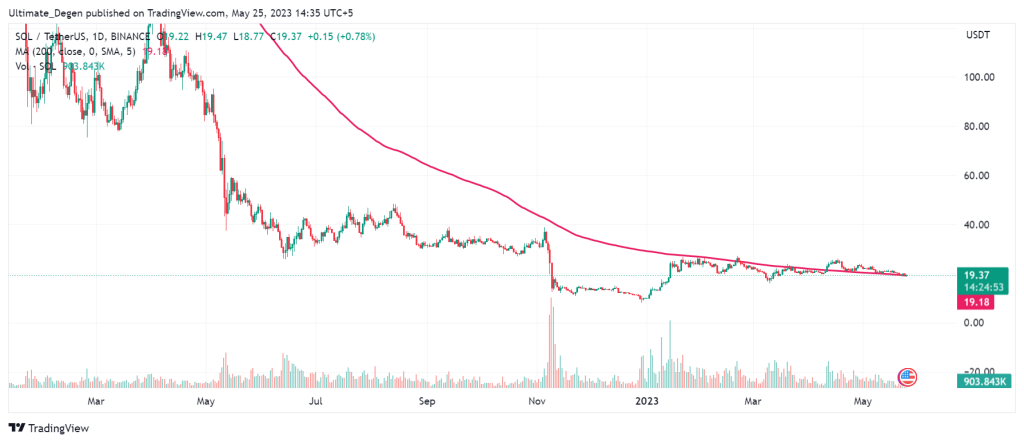 Solana Price Prediciton 2023
Solana has been 118% up since the start of the year. This makes it one of the best-performing digital assets of 2023. However, after a major price rally, SOL crypto is currently having a pullback. If the bulls manage to break above its $26 resistance, Solana price prediction 2023 will become extremely bullish. This will put the price target of $48 on the cards.
Solana Price Prediciton 2025
Crypto analysts are expecting another bull run to begin within the next 8-12 months. This is due to the upcoming Bitcoin halving in 2024. If BTC price puts a new all-time high within the next two years, Solana may see a similar price growth that Ethereum experienced from 2019-2021. This will make Solana price prediction 2025 very bullish. However, this will only be possible if its user base increases exponentially from here.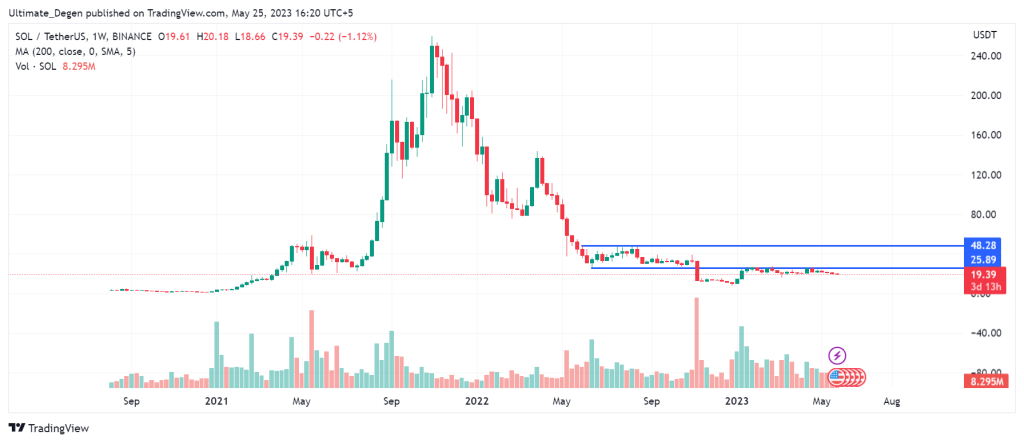 Solana Price Prediciton 2030
To predict the price action of any digital asset seven years from now is nothing but a shot in the dark. However, we can still take a shot at forecasting SOL price in 2030, considering the network adoption. If we assume Solana's market cap in 2030 to be equal to Ethereum's current market cap of $214 billion, then we get a price of $500 per coin for SOL crypto.
Where To Buy Solana?
If you are new to the world of cryptocurrencies and want to buy Solana, then you may buy from any reliable crypto exchange. Some of the most popular cryptocurrency exchanges in the world are Binance, ByBit, Kucoin, and Coinbase.
How High Can Solana Go?
Solana is currently trading 92.5% below its 2021 all-time high of $260. Its price needs to increase more than 1370% just to hit its previous all-time high. However, if Solana experiences a similar adoption curve as Ethereum did in its early years, Solana price of $500 looks quite achievable in the long term.
Where To Buy Solana NFTs?
Solana NFTs have also become very popular since last year. The most famous collection is the Okay Bears which trades on all the biggest NFT marketplaces. The major marketplaces that support Solana are Magic Eden, Solanart, and Opensea.
How Many Solana Coins Are There?
According to Coingecko, there are currently 396,204,289 SOL crypto coins in circulation. This circulating supply puts it at a market capitalization of $7.67 billion which makes it the 11th biggest cryptocurrency in terms of market cap.
Solana vs Ethereum
SOL vs ETH debate is one of the hottest topics in the world of cryptocurrencies. The brains behind both projects have taken different approaches to solving the same issues. While Ethereum has an edge in decentralization and adoption, Solana aims to establish itself as a high throughput and scalable blockchain.
Conclusion
It won't be appropriate to consider Solana an Ethereum killer as its network adoption is no way near to that of Ethereum. However, if the Solana ecosystem keeps developing at its current pace, then it can really give ETH a run for its money. This will also make Solana price prediction very bullish for the coming years.