Solana crypto price seems to be on a roll after rebounding strongly from its September lows. The smart contract token suffered a slight pullback from its weekly highs on Thursday. SOL price is trading at $19.69 on Friday, after declining 0.74%.
The recent volatility in altcoin prices could be attributed to Bitcoin soaring above $27,500. However, altcoins faced increased selling pressure after the largest cryptocurrency suffered a 2.2% correction from weekly highs. On Friday, Bitcoin changed hands at $26.646 and was up 0.3% for the day till press time.
Solana Receives Good Press By Former Goldman Sachs Executive
The former executive of Goldman Sachs has listed Solana as one of his standout altcoins and labeled it as a competitor of Ethereum. He defended his bullish stance by mentioning the recent adoption of SOL crypto as a payment method by Visa. He also added Solana's unique attributes coupled with its highly efficient performance, which can allow the smart contract currency to rival Ethereum.
FTX Gets Greenlight To Sell SOL Crypto
Last week, FTX was allowed by the court to liquidate its cryptocurrency assets, which amounted to $3.4 billion. The court conditions allow the bankrupt digital asset exchange to liquidate up to $200 million per week. This news is bearish for Solana price as FTX owns $1.16 billion in Solana tokens, which will be among the $3.4 billion crypto liquidation.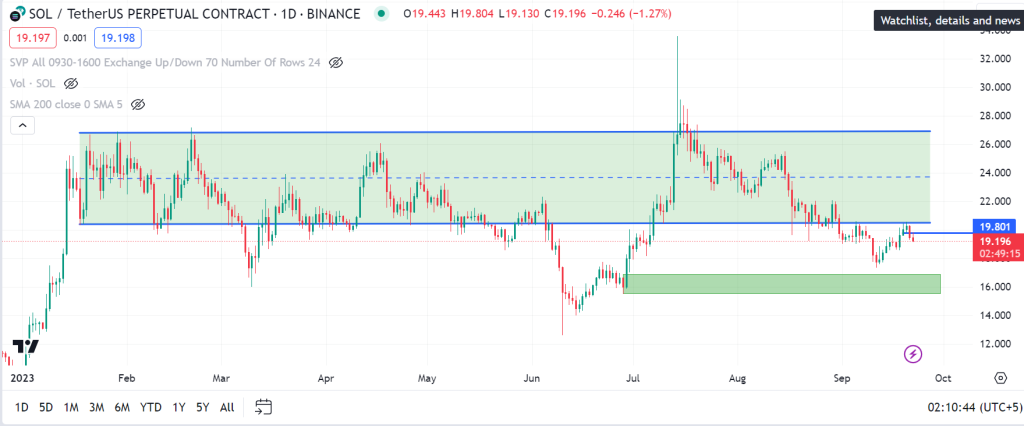 Solana Price Breaks Below $19.8
Solana has broken the local bullish structure on the 4-hour timeframe. The daily chart of SOL also reveals the smart contract currency is trading 6.3% below the 200 MA, which further contributes to its bearish outlook.
The Solana price prediction remains bearish on a higher timeframe as Bitcoin fails to show any signs of recovery. My immediate bearish target will be the retest of the $17.5 support level, which is the September low. In case of a deeper correction, the price can also dip into the $15.5-$16.5 demand zone.