The SNDL stock prediction of the continuation of price recovery towards 0.9524 was temporarily halted by the correction move of 25 March and subsequent decline towards the 30 March low at 0.7147. However, the SNDL stock price is trading higher in pre-market trading, up by 5.26% on the news of the completion of the acquisition of Alcanna Inc.
Sundial Growers released a press statement earlier today. The company announced that it had completed the acquisition of all issued and outstanding shares of Alcanna Inc for $320million in cash and common shares. By this acquisition, all former holders of Alcanna shares will receive 8.85 Sundial shares and $1.50 cash for every 1 Alcanna share previously held.
This acquisition gives Sundial Growers access to an improved cash profile by delving into the retail alcohol business which Alcanna originally carried out. Due to this deal, sundial is now Canada's largest private-sector liquor retailer, with 171 locations located primarily in Alberta. Alcanna also held a subsidiary known as Nova, which operated 78 medical cannabis retail stores. With the acquisition of Alcanna, Sundial now adds this portfolio to its own cannabis business with a total of 180 locations. Sundial now owns a 63% stake in Nova.
This deal appears to have excited investors, given the demand seen in pre-market trading. As a result, the SNDL stock prediction is for the stock to potentially extend the recovery move seen recently if the stock's demand continues for some time.
SNDL Stock Prediction
Following the break of the neckline of the double bottom at 0.6646, the SNDL stock price prediction of completion of the pattern's measured move was fulfilled by the 25 March candle at 0.8914. Following this, the price has undergone a measure of correction. The SNDL stock price's intraday decline follows the rejection of the price from the 0.7971 
resistance level. The bears need to add some bearish momentum to send the price towards the 0.6646 support level. Below this level, 0.5368 (5/16 December 2021 low and 4 February/3 March 2022 highs) and 0.4272 (28 January low) constitute additional southbound targets.
On the flip side, the bulls need a bounce that breaks the 0.7971 resistance to restore the upside momentum. Next, the 25 March high of 0.8914 must be surpassed, culminating in a run towards 0.9524 (12/15 November 2021 highs). Only when this barrier is broken can the bulls march on the 24 July 2021 high at 1.0574. 1.2172 (8 March 2021/8 June 2021 highs) complete the price barriers to the north in the short term.
SNDL: Daily Chart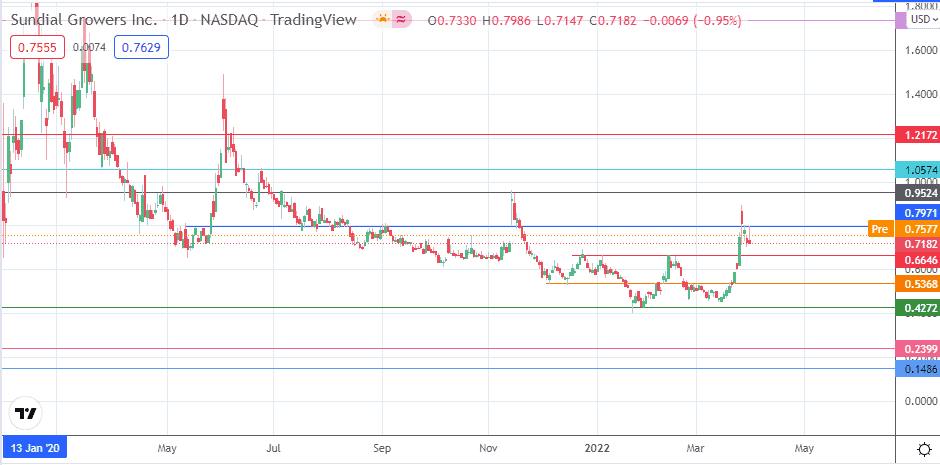 Follow Eno on Twitter.