Silver price wavered on Monday morning as investors reflected on the latest US jobs numbers and the better-than-expected China services data. The XAG/USD pair was trading at 18, which was slightly above last week's low of 17.55. It has crashed by more than 20% this year as the US dollar index has jumped to the highest point in over 20 years.
US dollar index and silver prices
Silver is a leading industrial and precious metal that is used in several industries. Its performance tends to react to the strength of the global economy and the performance of the US dollar. Data published last week showed that global manufacturing activity cooled down in September. For example, activity in China contracted as companies faced numerous challenges such as the falling water levels in key rivers.
Silver price also wavered after the latest US jobs numbers. The data revealed that the country's economy added over 320k jobs in August after it added more than 528k jobs in the previous month. The unemployment rate rose to 3.7% while wage growth was lower than expected. Still, the US dollar index rose after the report since analysts expect that the Fed will continue tightening. The DXY index rose by over 25 by 0.40% on Monday as it approached $110. Silver has an inverse relationship with the US dollar.
Silver price prediction
The daily chart shows that silver has been in a strong bearish trend in the past few months. It managed to move below the important support level at $18.17 on July 15. By so-doing, it invalidated the double-bottom pattern that was forming. In most periods, this pattern is usually a bullish sign.
Also, it dropped below the 25-day and 50-day moving averages while the stochastic oscillator is moving sideways below the oversold level. Therefore, silver will likely continue falling in the near term, with the next key support being at $16.50.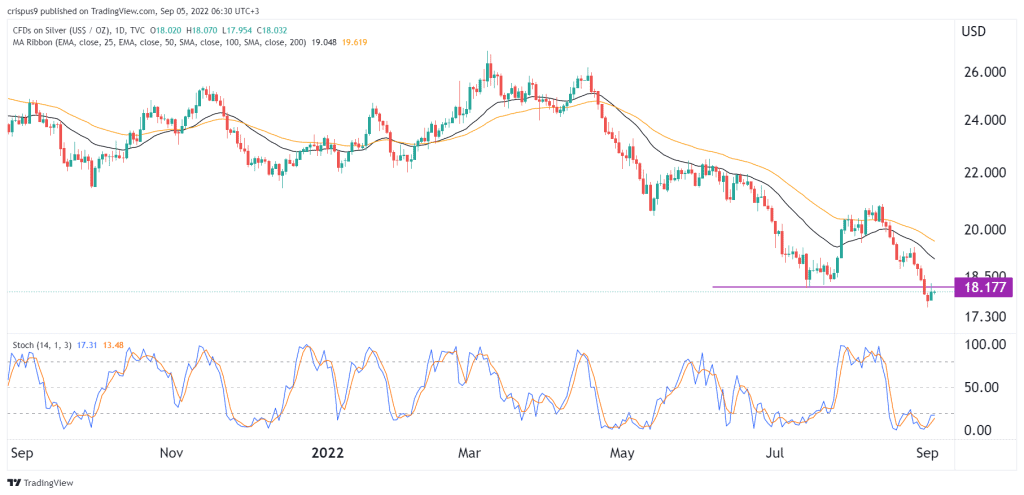 XAG/USD support and resistance levels
The bearish view is supported by the highly accurate InvestingCube S&R indicator. As shown below, the indicator has a bearish view, with the first two support levels being at $17.68 and $17.25. The stop-loss for this trade will be at 18.84. You can subscribe to highly-rated the S&R indicator here.