China stocks have started the year well amid rising hopes of reopening and the dovish PBoC. The Shanghai index rose to 3,258 on Friday ahead of the upcoming Lunar New Year events. Similarly, other closely-watched China indices like the China A50 and Hong Kong's Hang Seng have been in a recovery mode.
What happened?
The Shanghai index has jumped for three main reasons. First, China has started to reopen its economy following months of the failed zero-Covid strategy that imposed substantial curbs on business and travel. In the aftermath of these policies, data published this week showed that the economy grew by 3%, the lowest rate in decades. Therefore, the Shanghai composite is rising as investors believe that the economy is entering a new growth path.
Second, the Shanghai index drifted upwards after the PBoC committed to a more accommodative policy in the coming months. It continued with its easing policies as it left interest rates at 3.25%, where they have been for more than a year. Stocks usually do well in a period of more monetary policy easing.
Third, it has risen because of the supportive policies by Xi Jinping's regime. The government announced that it will deploy over $24 billion to support the vulnerable property sector. Further, it said that it will end its import curbs of Australia's products like coal and iron ore.
Finally, the index has maintained a bullish tone because of the falling inflation globally and the likelihood of easier monetary policy conditions in 2023. Economists are pricing in some rate cuts by leading central banks later this year.
Implications for the Shanghai index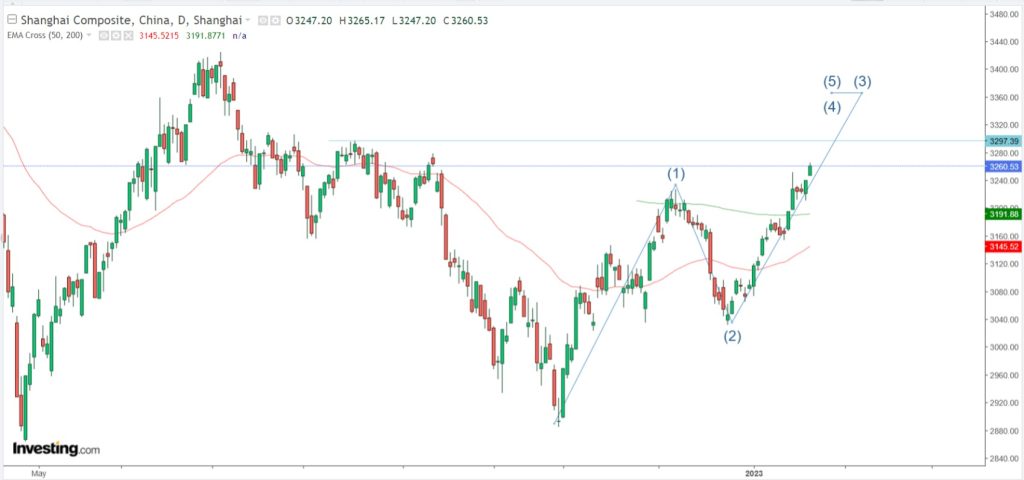 The Shanghai index will likely maintain its bullish trend in the coming months. Besides, it has formed an inverted head and shoulders pattern on the 1D chart. It has also formed a golden cross pattern, which is usually a bullish sign. Additionally, it has moved to the third phase of the Elliot Wave pattern. The next viable level to watch will be at 3,300, which is the highest point on August 16.
The Shanghai index will be closed next week for the lunar new year celebrations.