Our Safemoon price prediction for this year is looking bullish once again. The price appears to be breaking out of the downtrend that started in January 2022. Nevertheless, Safemoon price is still not out of hot waters as it is still 64% below its January highs. After a brutal start to the year, cryptocurrencies have become alive once again. Many memecoins like the Safemoon coin also appear to be recovering after a severe downtrend.
Latest Safemoon News
As per the latest Safemoon News, the Safemoon swap is live once again after the deployment of an update. Users had to face some downtime during this process; however, now it seems to be back up.  The team kept everyone informed by tweeting about every stage on Twitter.
Before moving on to our Safemoon price prediction, let's have a look at it the project's history. Although Safemoon crypto started as a memecoin, the team seems committed to its development. Products like Safemoon swap and Safemoon crypto wallet reflect the team's vision for the project.
Safemoon Price Prediction
Safemoon V2 launched in December 2021, and the V1 tokens were swapped for V2 tokens. This migration consolidated the circulating supply by 1000:1. The Safemoon coin price is currently trading at $0.00118, which is 64% below its January 2022 highs of $0.0034. Nevertheless, SFM price appears to have broken out of the downtrend. It is now knocking at the door of $0.00125 resistance.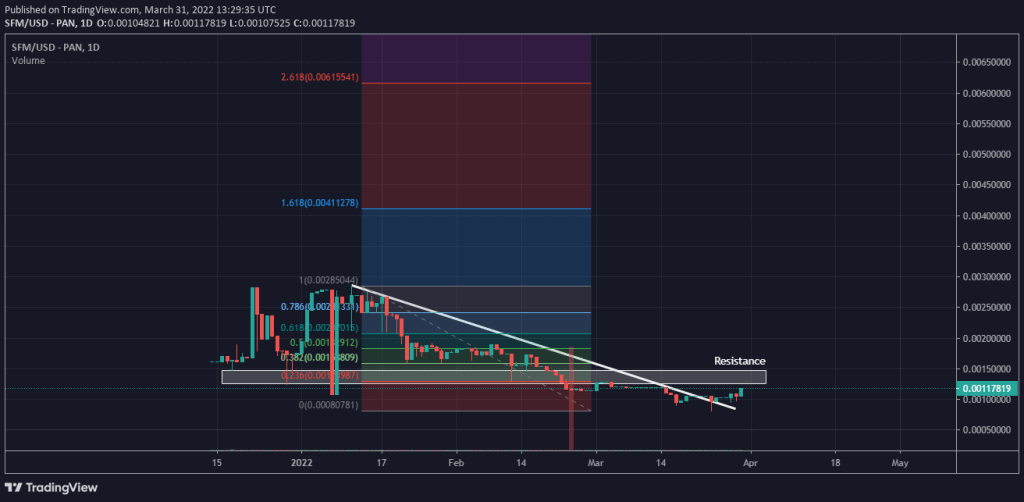 Safemoon price chart technical analysis suggests that it needs to flip this resistance into support to aim further upside. Any higher high than $0.00125 can push the price to $0.002 levels within no time. Similarly, a higher high than $0.0028 could mean a Safemoon price prediction of $0.008. This prediction also matches with the 3.618 Fib level, connecting December 2021 highs to the March 2022 lows.
How to Buy Safemoon?
Safemoon crypto is still not available on any major centralized exchange despite its popularity. A tier 1 exchange listing could send Safemoon price prediction through the roof. How to buy Safemoon? You may ask. You can buy Safemoon easily by connecting your Binance Smart Chain web 3.0 wallet with Pancakeswap.