The Royal Mail share price is trading lower this Tuesday as the company continues to battle with postal delays caused by COVID-19-induced worker absences.
Reports indicate that Christmas mail is still stuck in the post in some areas as workers hit by COVID-19 infection stay away from work. The company says it is recruiting temporary staff and also moving personnel to pressured areas as an additional measure to deal with the problem. According to the latest press releases from the company, more than 90 postcode areas have been affected by the situation.
On the investment side, traders appear not to be pleased with the situation, which could lead to a slowdown in revenues during months that were supposed to be the peak of business activity for the company. Friday's steep 5.64% decline reflected the negative sentiment, with an additional 1.22% haircut as of writing also wiping off Monday's small gains.
Royal Mail Share Price Outlook
Friday's decline broke the 509.6 support, meeting the required 3% penetration price filter for confirmation. An attempt to return above this price mark has been resisted, with Tuesday's decline reinforcing the corrective sentiment. The 490.7 support is the next logical target for this correction, but a drop below this level brings 471.3 into the picture.
Bullish sentiment is only restored on a break of recent highs at 520.3, targeting 538.0 and 566.4 as sequential targets to the north. This move can only come from a bounce on the support targets mentioned as part of a potential dip-buying scenario. 
Royal Mail: Daily Chart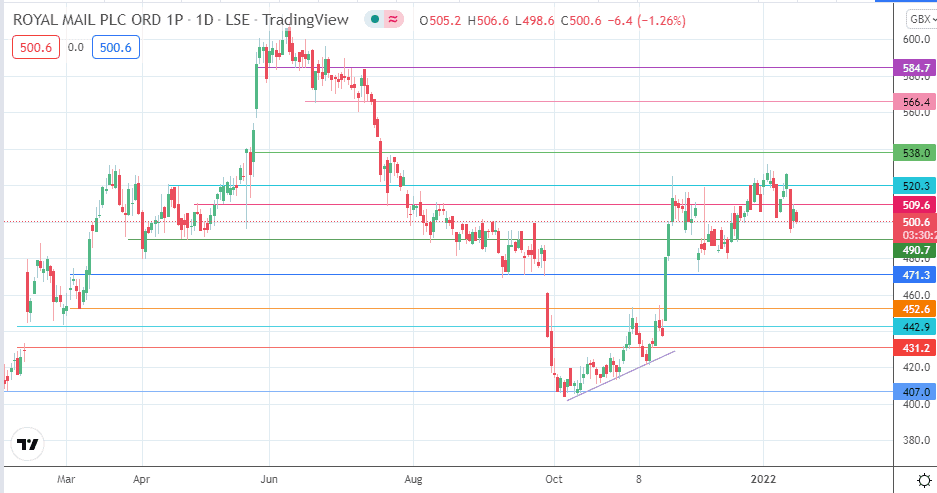 Follow Eno on Twitter.