The Royal Mail share price has kicked off the new trading year on a bullish note, notching 3.24% in gains as traders returned from the long Christmas and New Year holiday on an optimistic note. As expected, trading volumes were relatively low as traders seek a new direction for the year.
Overall, the Royal Mail share price action for 2021 was great for traders, returning more than 54% as rising profits boosted investor appetite. The uptick showed that the stock outperformed the FTSE 100 index, which grew 15% in 2021.
While some analysts have predicted a modestly bullish year for the Royal Mail share price, the company could face headwinds from the fluidity of the COVID-19 situation and the government responses to this. Royal Mail is also investing in new technologies and plans to upgrade its fleet to greener vehicles. This spending could impact profits in the near term and produce dividends in the long term. Also, emerging smaller companies in the logistics sector could provide some competition in the future.
It is too early to determine what 2022 has in store for the stock, but the cautious optimism of investors is manifesting in the modest gains of the day.
Royal Mail Share Price Outlook
The uptick has violated the 520.2 resistance mark (20 April 2021/6 December 2021 highs). A clear break of this level puts the Royal Mail share price on the path towards 538.0. A continued advance above this level allows the lows of 21 June and 12 July 2021 to form the next resistance at 566.4. 584.8 comes into the picture as an additional barrier to the north if the advance continues.
On the other hand, a rejection of the breakout attempt at 520.2 allows the bears to force a pullback towards 490.6 (20 December low), below which 471.2 becomes an additional downside target. A further decline makes 452.6 and 443.0 visible as other targets to the south.
Royal Mail: Daily Chart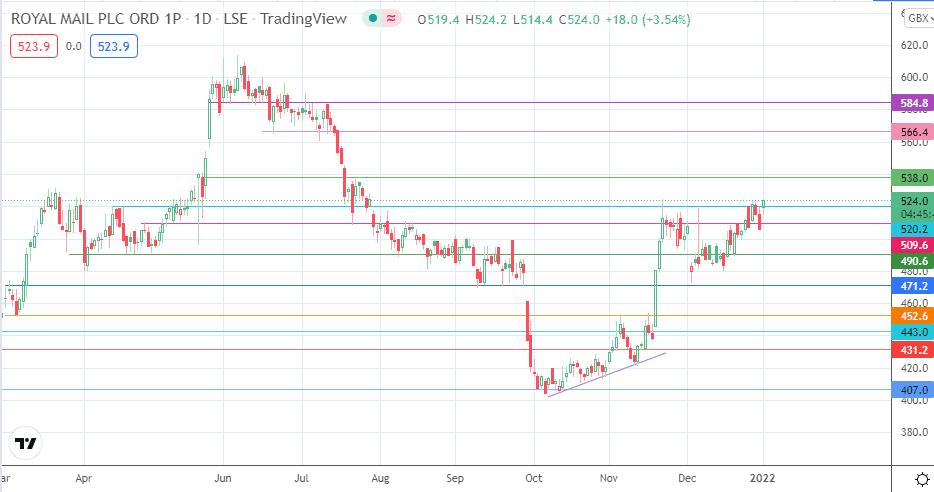 Follow Eno on Twitter.