The Royal Mail share price has registered some gains on the day after the company's launch of an all-electric delivery service in Glasgow. The delivery hub in Glasgow will be the first to feature an all-electric fleet of delivery and collection vehicles as the UK prepares to honour its commitments at the 26th United Nations Conference on Climate Change.
Royal Mail has the lowest reported carbon dioxide emissions of all major delivery companies in the UK. This move will deepen its resolve to eliminate carbon emissions in the coming years.
Investors appear pleased with the developments, pushing the Royal Mail share price higher by 0.54%.
Royal Mail Share Price Outlook
The Royal Mail share price has broken above the evolving bearish flag's consolidation area and the 431.2 resistance level. Confirmation of the break invalidates the pattern for the time being. 442.9 and 452.6 are potential upside targets, as is 471.3, where the previous lows of 9-29 September are found.
On the flip side, a rejection at the 431.2 resistance allows for a price return to the flag's lower border, where a breakdown confirms the pattern. This scenario opens the door for a further selloff, targeting 367.9 as the completion point for a potential measured move. The 392.3 support serves as a potential pitstop under this circumstance.
Royal Mail: Daily Chart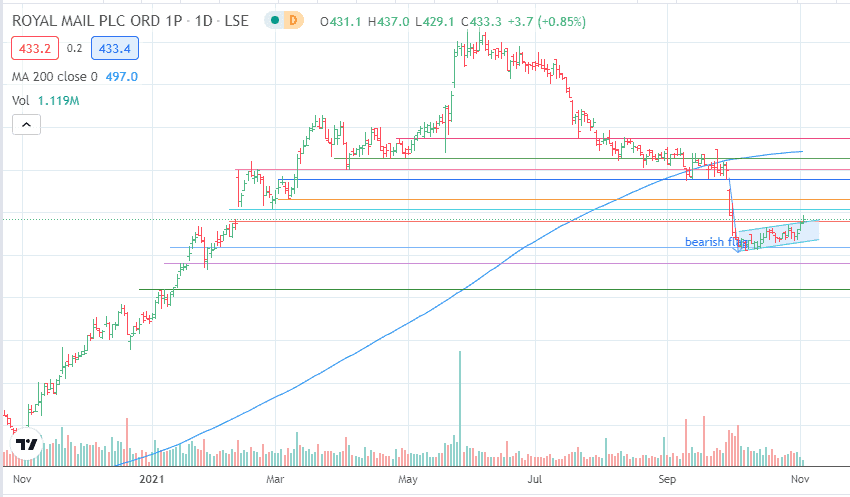 Follow Eno on Twitter.