Royal Mail share price declined on Thursday despite the company growing its 5-month revenues by 8.2% year-on-year and 17.7% compared to a similar period in 2019. Royal Mail Group has also maintained its H2 outlook for a higher profits margin when compared to H1. Its 2021 FY view of a modest single-digit revenue percentage growth also stays intact.
However, the Royal Mail share price fell heavily as the company said it was facing cost-associated pressures, even as total parcel volumes fell 12% in the first five months of 2021 compared with the same period in 2020.
The Royal Mail share price fell 0.53% on the news.
Royal Mail Share Price Outlook
If the Royal Mail share price is to push to the upside, the bulls need to initiate a bounce off the intraday support at 479.8. This move would aim to break the resistance barriers at 490.7 and 509.6. This move would clear the channel's upper border and open the door for a further advance that targets 531.8.
On the other hand, a decline below the intraday support puts the channel's trendline at risk. If this level yields under selling pressure, a decline towards 452.6 is initiated. 442.9 and 431.2 are potential targets to the south if the decline is extensive.
Royal Mail Share Price (Daily) Chart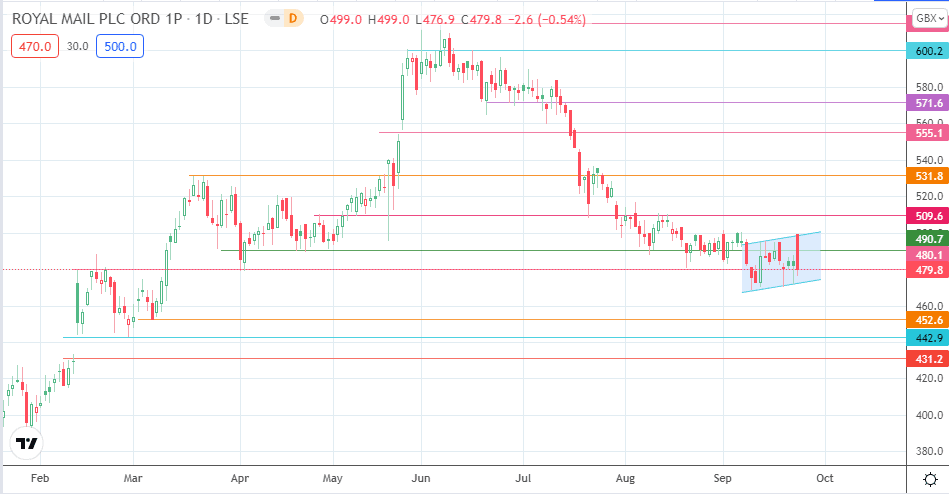 Follow Eno on Twitter.