Royal Mail share price resumes selloff.
Sunday Mail alleges Royal Mail has received medical details of NHS Covid Pass app users
Downside move tallies with evolution of bearish flag on daily chart.
The Royal Mail share price finds itself under renewed pressure as the Sunday Mail has alleged that personal data of users of the Scottish government's vaccine passport has been shared with the Royal Mail and several private firms.
Companies cited by the Sunday Mail as having received the confidential medical information of users of the NHS mobile app include Amazon, Royal Mail, Microsoft, and an unnamed firm specialising in AI for facial recognition.
As expected, the situation has generated some furore. Leader of the Liberal Democrats, Alex Cole-Hamilton, said his party had warned the government about the app's "virtually non-existent" data protection status. He also called a situation private companies could access the medical history of the app's users as "simply absurd".
The Royal Mail share price is down 0.92% as of writing.
Royal Mail Share Price Outlook
Following Monday's gains, the stock met resistance at the evolving flag's upper border and has pulled back. The pullback aims for the pattern's lower border, where a breakdown of the 407.0 support completes the pattern. This scenario also makes a case for a measured move towards 367.9, with 392.3 (20 January low) serving as an intervening barrier.
On the flip side, a break of the 431.2 resistance invalidates the pattern. This price move also opens the door for bulls to aim for the 442.9 barrier. A further recovery in price brings 452.6 (5 March low) into the pic, along with the 10/20 September lows at 471.3. 
Royal Mail: 4-Hour Chart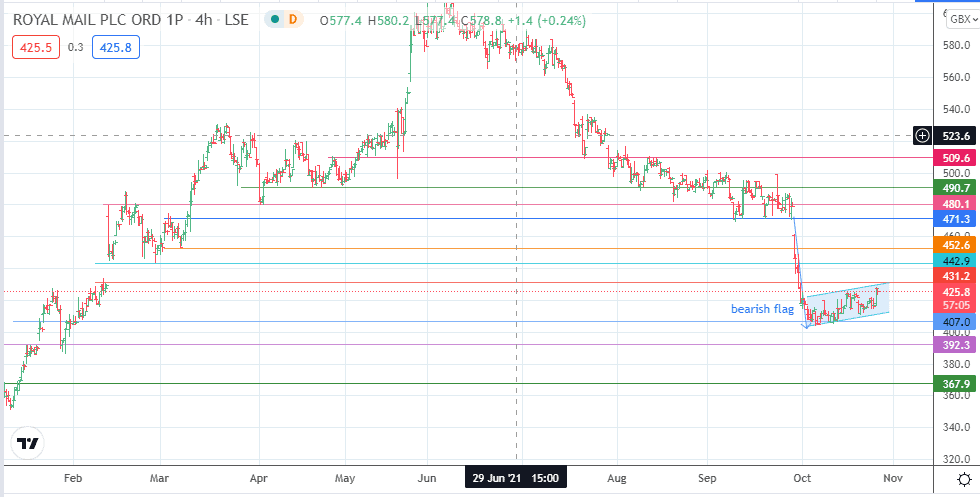 Follow Eno on Twitter.