The Roblox share price remains under pressure after the online gaming stock, the toast of the WallStreetBets Reddit subforum in 2021, suffered a Q4 loss that exceeded analysts' estimates. On 15 February, Roblox reported a loss per share of $0.25, which exceeded the expectations of a $0.12 loss per share. This result precipitated heavy selling on the stock, sending it from $73.63 to as low as $43.06 at the opening of trading on 24 February.
The situation has led to a slew of downgrades, with the lower band of the 12-month price target set at $45 by institutional analysts. The price has attained this mark, and only time will tell if the Roblox share price will drop below this price mark or not. Other targets set for the Roblox share price are $74.50 for the median target and $108.00 as the upper band. The Roblox share price has opened the trading day 3.88% lower as of writing, setting up the potential for a third straight losing session.
Roblox Share Price Outlook
The weaker open points to a downward push that targets the all-time low at 43.10. If the bears degrade this support level, new all-time lows beckon. These could potentially be at the 36.43 or 26.38 price mark (100% and 127.2% Fibonacci extension from the 11 January, 28 January, and 15 February price swing).
Conversely, a bounce at the 43.06 price support sets up a potential double bottom pattern. Completing this pattern would require a break of the 53.25 price mark, which would serve as the neckline resistance. An advance beyond this neckline sets up a potential measured move that targets 66.76, with 60.60 as a potential pitstop.
Roblox: Daily Chart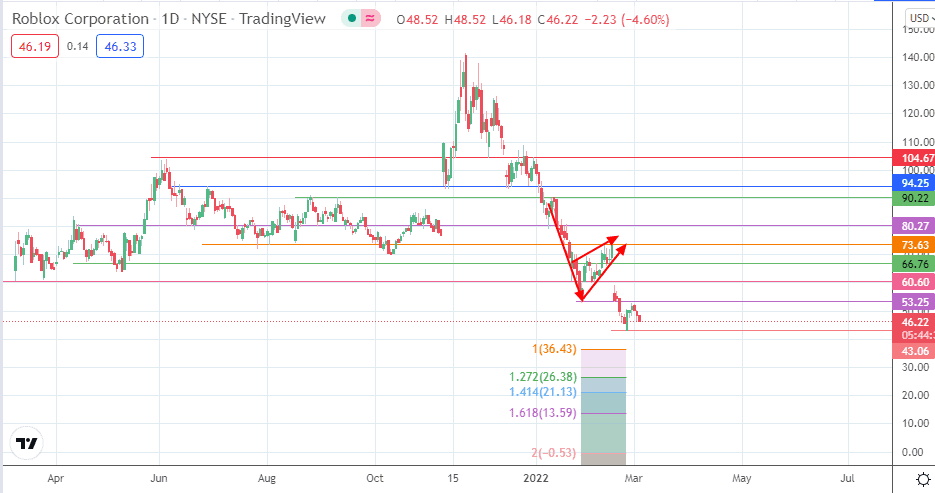 Follow Eno on Twitter.