Rivian stock price is consolidating near a very critical level of $19.5 after suffering a 27% correction from its October high. The chart below also shows the stock of the EV manufacturer respecting a downward trendline since September 2022. The stock of Rivian is priced at $19.8 and gained 0.6% on Tuesday.
US equities are trading in the red on Tuesday after treasury yields surged to their fresh October highs. This coupled with positive retail sales data increases the chances of a further rate hike by the US Fed.
Rivian To Release Q3 Earnings Report In November
According to analysts, the estimated EPS for Q3 is likely to improve by 11.46% from last year. Rivian is also expected to earn about $1.36 billion in its quarterly revenue, which is a 153% jump from last year's figure. A full-year forecast of the EV producer shows an estimated $4.34 billion in revenue with a loss of $5 per share.
Rivian's average brokerage rating (ABR) shows the brokers are somewhat bullish on the stock of the EV manufacturer. The ABR rating of Rivian is 1.79, which is between a Strong Buy and a Buy rating. 14 of the 21 brokers rate the popular EV stock as a buy while the remaining label the stock as a sell or neutral.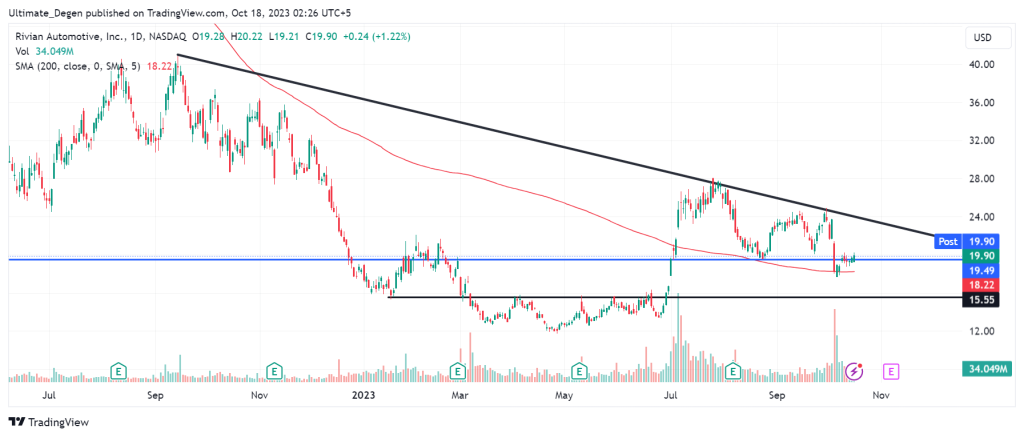 Rivian Stock Price Forecast
Rivian stock price is in the green for the third time in a row as it consolidates near the $19.5 support level. Last week, the price was able to break below $19.5 but rallied 9.5% right after finding support at the 200 MA level. The stock of the EV producer is trading 28% below the yearly peak.
There is a strong probability of a deeper pullback to $15.5 if bulls fail to hold the $19.5 support level. This level is also a critical level as it lies near the 200 MA. A breakdown below $19.5 will flip the Rivian stock price forecast bearish by triggering a 20% correction towards the neckline of the head and shoulders pattern.