Ripple price is down 12.39% on Monday, as the market contagion from China's property market events sparked a global selloff that battered risky assets. The selloff has wiped out more than $300 billion of market capitalization from the crypto markets. Ripple price followed the declines seen in Bitcoin, Cardano Ether and several altcoins on Monday.
China's Evergrande Group is the 2nd largest property developer and is presently struggling to meet its debt obligations. It has warned of an impending default as it groans under a $300 billion debt profile amid a struggling housing market. There are fears of a spillover from the Chinese housing market, creating jitters that have sent investors running towards the safety of gold and the USD, which is the counter asset in the XRP/USD pair.
Ripple Price Prediction
The slump in Ripple price appears to have found some difficulty pushing below 0.9225. This support must give way for the price to move towards 0.8008 (12 June and 10 August lows). Below this level, 0.7007 becomes available if the decline is more extensive.
Conversely, an upward extension from the bounce on 0.9225 allows the bulls to aim for 1.0389 (4 June high, 11 September low). If this target is surmounted, 1.12547 becomes the new target for bulls. 1.2418 and 1.3229 are additional targets to the north which will only become visible if a sentiment change fuels a significant price advance.
Ripple Price (XRP/USD): Daily Chart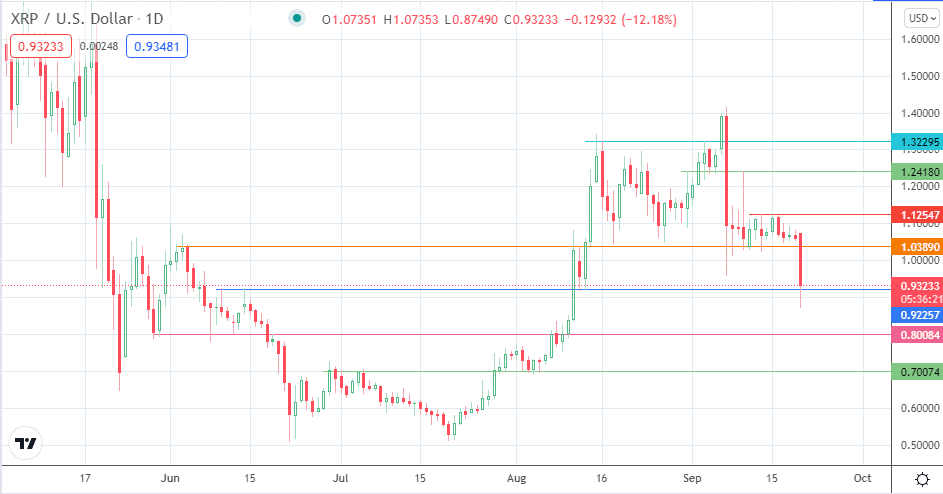 Follow Eno on Twitter.