Bearish Ripple price predictions continue to follow the declaration from Ripple's top lawyer that the lawsuit between Ripple and the US Securities and Exchange Commission (SEC) could last until the end of 2023. This declaration by Stuart Alderoty, General Counsel for Ripple, has put a dampener on the hopes of Ripple token HODLers seeking a speedier resolution of the case, which has been on for close to 17 months now.
Alderoty is blaming the SEC for the delay, accusing the agency of employing delay tactics and undermining the valuation of the token in the process. In addition, Alderoty said the agency's actions were harming the investors it claimed it was protecting in comments made via a series of tweets.
The Ripple price was badly hit when the SEC announced its lawsuit against Ripple and its co-founders, leading several exchanges to delist the token from their traded asset suites. As a token that shares a positive correlation with Bitcoin, Ripple has also suffered from the recent dips in price on the BTC/USDT pair.
The recent decline in the XRP/USDT pair followed the formation of progressively lower highs on the 0.7975 resistance mark. This pattern opened the door for bearish Ripple price predictions, which have led to a 6-day losing streak in the Ripple share price. As a result, the XRP/USDT pair is currently trailing 4.73%.
Ripple Price Prediction
Sunday's decline broke the 0.7102 support, paving the way for the move south that is now testing the support at 0.6581 (26 January high and 6 February low). A decline below this level aims for 0.5885 (27 January and 3 February lows) before 0.5166 (20 July 2021 low) comes into the picture as an additional southbound price target.
On the flip side, the bulls need to defend the 0.6581 to give the pair a chance at recovery. A bounce on this level targets the 0.7102 resistance. 0.7975 (8/16 April highs) is another northbound target, as is the 0.8805 barrier, which lies at the site of previous highs seen on 29 March 2022.
XRP/USDT: Daily Chart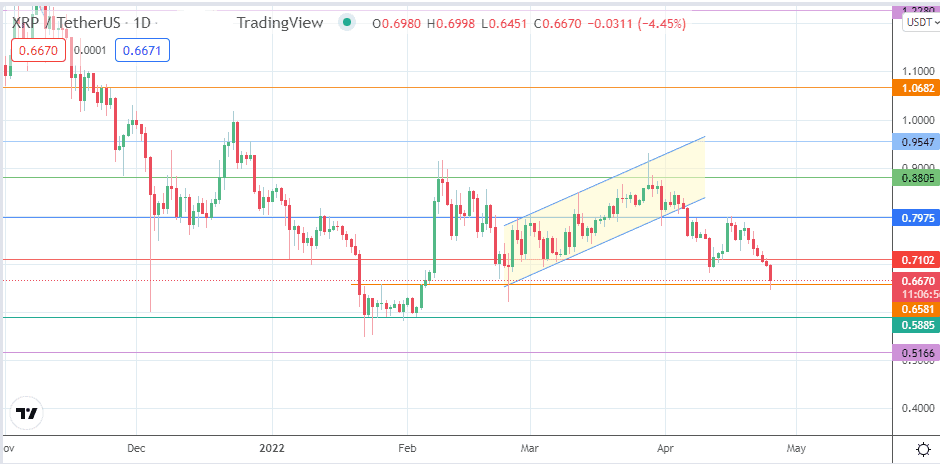 Follow Eno on Twitter.