The Ripple price activity rose this Tuesday amid an uptick in Bitcoin prices that saw the number 1 crypto hit the $50,000 mark. Ripple is correlated positively with Bitcoin and tends to follow Bitcoin prices.
Ripple's gains come as US District Judge Analisa Torres granted a motion to allow Ripple holders to be "friends of the court" (i.e. amici curiae), in the ongoing case between the US Securities and Exchange Commission (SEC) and Ripple Labs(and its two co-founders). 
This ruling opens the door for the Ripple holders who sought to offer opinions without introducing new evidence. The views of the Ripple holders are also restricted to issuing responses to issues presented by both parties.
Ripple investors seem to be optimistic that this development could tilt the case towards the embattled blockchain giant despite the restrictions.
Ripple price is up 2.46% as of writing.
Ripple Price Predictions
Following yesterday's decline and formation of a pinbar that sits on the 1.0389 support, Tuesday's upside has followed a bounce on this support. However, bullish momentum remains weaker than its peers and needs to be ramped up for Ripple price to attain the 1.12547 upside target. 1.24180 and 1.32295 are resistance barriers that become available if the advance takes out the 1.12547 resistance.
On the flip side, a closing penetration below 1.03890 opens the door towards 0.92257. 0.80084 and 0.70074 (5 August low) come into the picture as potential targets if the decline is more extensive.
Ripple Price Chart (Daily)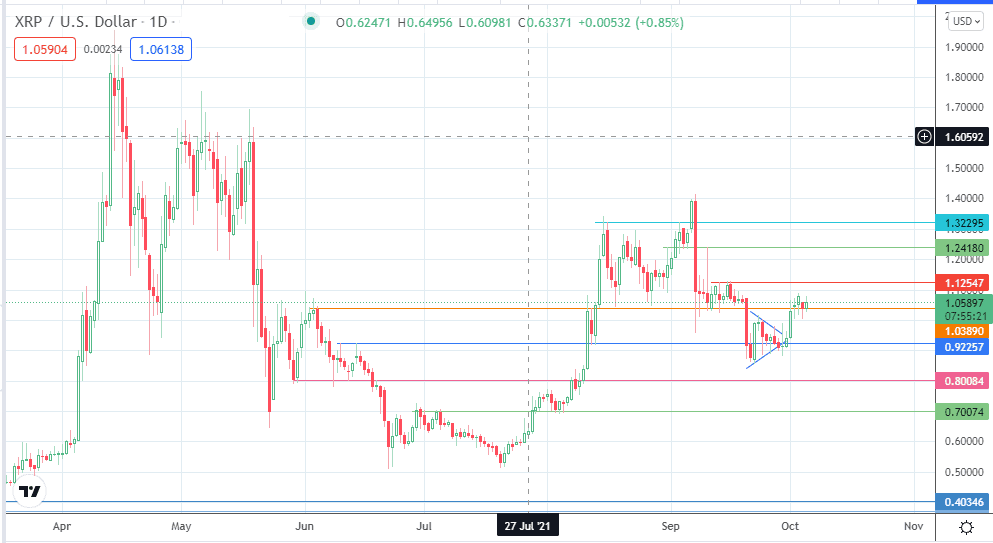 Follow Eno on Twitter.