This article will look at Revain Price prediction for 2022, 2025, and 2025. We will also look at Revain's underlying technology and how the platform is helping other blockchain networks get honest reviews.
Revain overview
Revain project was founded in 2018 as a review platform that uses blockchain technology to curate and reward user comments on products and services. Since its founding, the project has become one of the largest blockchain-based review platforms. Today, it specializes in reviewing cryptocurrency projects, exchanges, wallets, games, casinos, mining pools and cards as part of its seven review sections.
Revain uses REV token as its native cryptocurrency. Today, the token is one of the most rapidly rising altcoins in the market. The platform has also addressed the lack of transparency that has mostly plagued the review industry. For instance, competing non-blockchain review projects such as Yelp and Trip advisor can offer users a platform to review businesses they have interacted with. Unfortunately, these reviews are easy to alter, and in most cases, there is no way of telling if the reviews are genuine, sponsored, accurate or altered. Fortunately, Revain is able to use blockchain technology to verify every review, making sure that users cannot alter their reviews, get sponsored to positively or negatively review a project, or give inaccurate reviews.
Revain Price History
Since its founding in 2018, Revain has achieved significant price history milestones, including a market capitalization of $395 million. The table below shows some of these milestones.
| | | |
| --- | --- | --- |
| Date | Milestones | Price |
| Current Price | Current Price | $0.00465 |
| February 18, 2018 | All-Time High | $4.49 |
| March 07, 2022 | All-Time Low | $0.00457 |
| 52 Week Low | 52 Week Low | $0.00457 |
| 52 Week High | 52 Week High | $0.05607 |
Revain adoption
One of the biggest adoptions of the Revain platform is through its vast user base who relies on the platform to gauge upcoming blockchain projects. Today, blockchain projects also rely on the Revain network to gauge the sentiments of their users.
The project has also been known to analyze project white papers and goals. This is important to investors looking for new cryptocurrency projects to invest in. Businesses can also use the Revain reviews widget to display reviews on their websites.
Revain Price Prediction 2022
The Revain price prediction for 2022 relies on several factors, including the recent sanctions levied on Russian firms. Today, the cryptocurrency hit its all-time low of 0.00457. Unfortunately, my Revain technical analysis shows that the cryptocurrency is likely to continue to the downside.
For starters, Revain has been trading within a descending channel. The cryptocurrency recently hit the upper trendline and started a new downward trend that has seen the prices break the all-time low prices. I expect that, as the current global political turmoil t continues, the cryptocurrency is likely to continue losing value and will start setting new lows.
By the end of 2022, I expect the cryptocurrency to be coming out of the recent drop. There is a very high likelihood that in December 2022, the cryptocurrency will be selling at a lower price than it is currently trading. This is highly dependent on whether the current actions will hit the company or it will continue trading in the exchanges as usual.
My analysis of 2022 is based on the observation that platforms such as TradingView, which previously calculated the Revain/US dollar prices using the BITTREX pricing, have stopped updating the platform's prices as of March 06 2022. This may all be a coincidence but based on the recent sanctions of Russia-based companies, and there is a very high likelihood of exchanges failing to trade the cryptocurrency.
Revain Daily Chart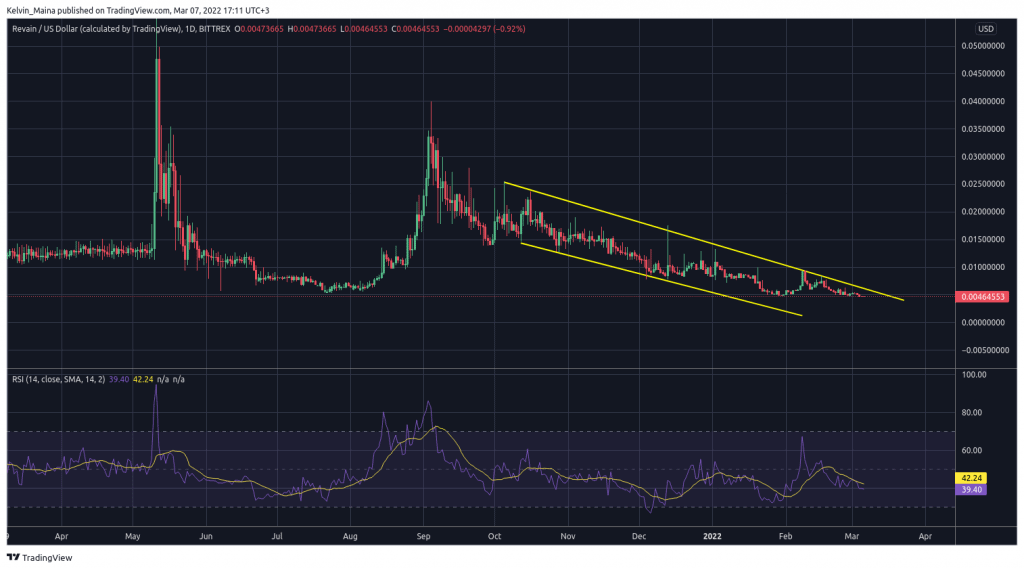 Revain Price Prediction 2025
Although my Revain Price prediction for 2022 was bearish, I expect the cryptocurrency to recover by 2025. This is supported by the Revain Network's userbase and the real-world usability of the project.
In 2025, review platforms will still be popular. However, Revain being a blockchain-based review platform is likely to have gained even more users. This is because blockchain technology is expected to continue gaining traction with users, and with the development of Web3 platforms, Revain will be among the blockchain-based review platforms.
My Revain price prediction for 2025 expects the cryptocurrency to break the resistance levels of $0.036. Based on today's prices, this will be a 669 per cent return on investment. Furthermore, this will be an average growth of 88 per cent per annum in the next three years. The chart below shows where I expect the price to trade between now and 2025.
Revain Weekly Chart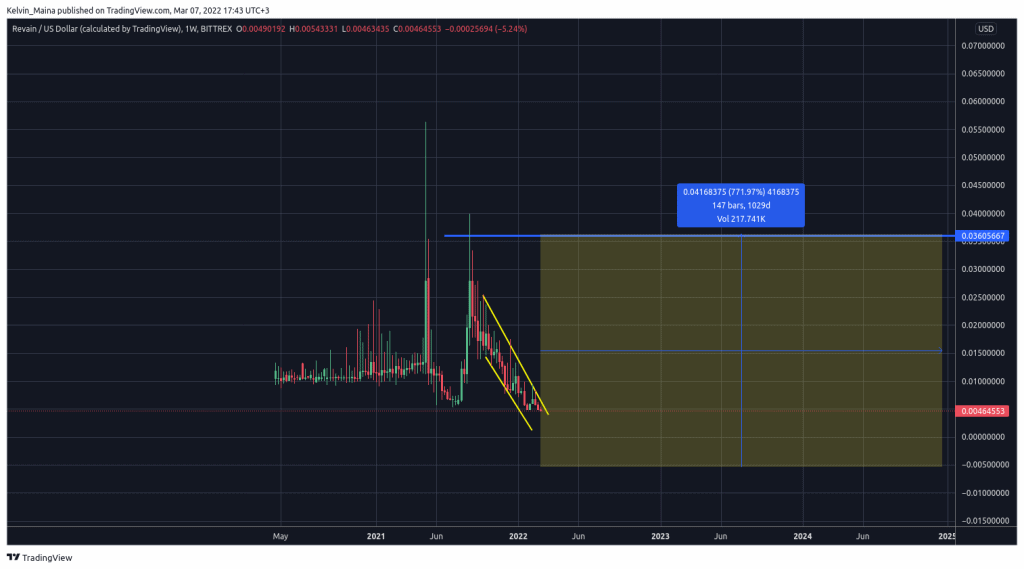 Revain Price Prediction 2030
My Revain 2030 price prediction is also bullish, and I expect the cryptocurrency to continue averaging 88 per cent per annum gain. This annual rate may seem very high, but my analysis indicates that Revain is hugely undervalued, and the current prices are due to the political climate. Fortunately, I expect by 2030, the Revain platform to be operating in a still political environment. Therefore, based on 88 per cent annual growth, I predict that Revain will be trading at slightly above a dollar by 2030. This is a very conservative prediction, and there is a possibility that it may even trade above $5 because the platform is highly undervalued.
Is Revain a Good Investment
Today, Revain is severely undervalued. Unfortunately, today's political climate is affecting the operation of cryptocurrency. There is also a chance that the cryptocurrency may face some sanctions. However, I expect the cryptocurrency to recover. Therefore, I expect the cryptocurrency to recover and, by 2025, to have gained over 600 per cent return on investment. This makes it a good investment for the future.