Pulsechain (PLS) price has failed to meet the expectations of the investors who took part in its sacrifice phase. PLS price is currently trading below the price at which the users sacrificed their funds. Nevertheless, the on chain satats show that the Pulsechain ecosystem is growing.
PLS is the native asset of the Pulsechain ecosystem, which has a lot of use cases in the whole ecosystem. Currently, the PLS price is trading at $0.0001569 on the PulseX decentralized exchange. After years of waiting, Pulsechain was finally launched on May 13, 2023.
Pulsechain Took An Unorthodox Approach
Pulsechain had a very unique way to launch its blockchain. Unlike the launch of most other crypto projects, the users had to sacrifice their funds or donate to charity to become eligible for the PLS tokens. The sacrifice process ran for more than two weeks in 2021, giving everyone an opportunity to join.
Users were also given an option to donate funds for medical research instead of sacrificing their crypto. This fund ended up raising $24 million, which received an industry-wide criticisem.
While Pulsechain price may not be a scam, it still has along way to go before competing with the industry leaders like, Ethereum, BSC and Polygon. According to DeFi Llama, the TVL on Pulsechain has soared to $460 million just after a few day of its launch. In the past few days, the TVL has fell to $389.4 million.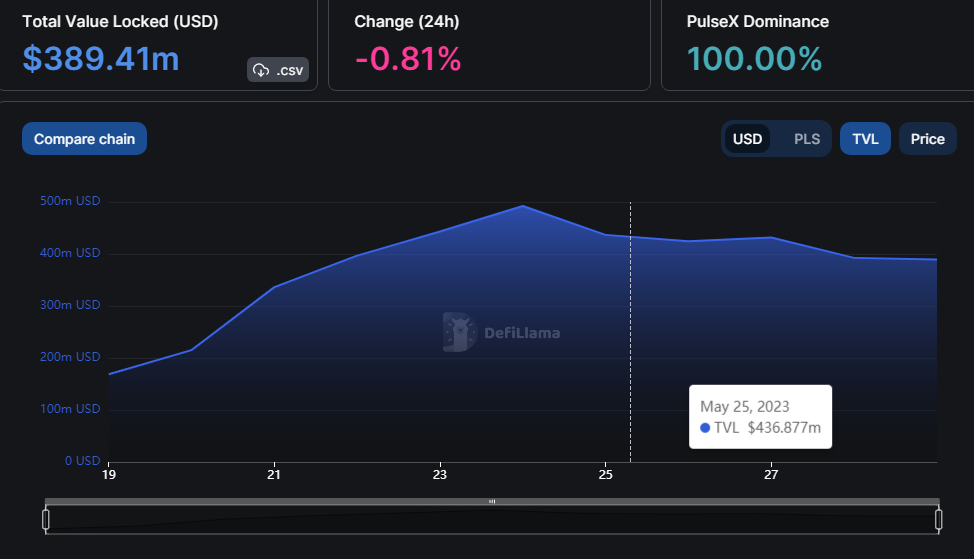 Pulsechain Price Attempts Breakout
According to the network architecture, 25% of the PLS paid for gas fee is burned to increase scarcity. This reduced the circulating supply of the coin. The following chart shows that that Pulsechain price has been in a downtrend for the past couple of days. PLS price is currently 45.8% down from its all-time high.
Pulsechain price prediction may flip bullish once again if it breaks above the $0.00021 level on it chart. The 4H timeframe also shows that the price has broken out of the downward trendline but there is still a possibility of a retest of the $0.0001283 level.
To remain updated on the latest developments on Pulsechain, you are also welcome to join my free Telegram group.