Pulsechain (PLS) price has become the hottest topic in the crypto world. The network went live amid massive hype as the project's Telegram group hit record numbers. In this article, we'll be discussing the potential for the Pulsechain and the projects being built on it.
PLS is the native asset of the Pulsechain ecosystem, which holds a lot of utility, like ETH on Ethereum. Currently, PLS price is trading at $0.00018 on the PulseX DEX. The launch of the Pulsechain network has been a controversial topic among crypto enthusiasts. While the project's proponents consider it a much-needed alternative to ETH, many still consider it a scam.
Is Pulsechain A Scam?
Pulsechain is a unique project considering the way it has been launched. Unlike running any ICOs or presales, the users had to sacrifice their funds by burning different tokens to get PLS. The sacrifice process ran for more than two weeks in 2021, giving everyone an opportunity to join.
The project also raised $24 million for medical research during its sacrifice phase, which was frowned upon by the crypto community. Nevertheless, Richard Heart's brainchild kept developing and finally launched in May 2023.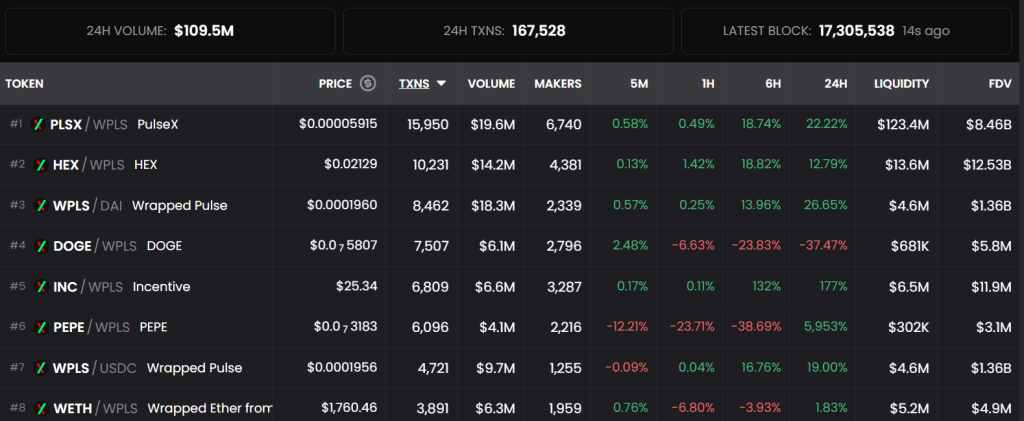 While Pulsechain price may not be a scam, it still has to pull something extraordinary out of its hat to compete with top smart contracts platforms. The latest stats show that the on-chain activity on the Pulsechain network is soaring as the decentralized exchanges have processed $109 million in the last 24 hrs.
How High Can Pulsechain Price Go?
Pulchain's native token, PLS can be used to pay for the gas fees on the newly launched blockchain. It can also be used to vote for the validators to earn a portion of the transaction fees. 25% of all the transaction fees paid in PLS is burned to create scarcity of the token.
There is very little information available on PLC price as it is not being traded on major centralized exchanges. The chart on PulseX decentralized exchange shows that the wrapped version of PLS (WPLS) currently has a fully diluted market capitalization of $1.36 billion.
This is a very high market cap for a newly launched project. However, the price can be justified by the massive hype. A proper Pulsechain price prediction can only be made after it gets listed on major exchanges and its exact circulating supply is revealed. The people who took part in the sacrifice have received a massive amount of PLS, which may increase the selling pressure.
To remain updated on the latest developments on Pulsechain and PLS price, you are also welcome to join my free Telegram group.