On Monday, the Nio stock price edged higher by 4.02% higher as the market opened for a new trading week. Traders on Wall Street have preferred to place their bets on the company's forward guidance rather than on its negative earnings numbers for Q4 2021. Forward guidance from the company is expected to boost Nio stock price forecasts in the medium term.
The Nio stock price had slid in Friday trading after the company reported wider-than-expected losses in its Q4 2021 earnings results. Nio reported an adjusted loss per ADR share of 1.07 Yuan, compared with the 0.93 Yuan loss per ADR share it posted a year earlier. This was also a miss on the market expectations, which stood at a loss per ADR share of 0.87.
The company blamed the expanded loss on the semiconductor shortages and supply chain volatility, with company CEO William Li saying that 2021 was a challenging year.
However, the stock has rebounded this Monday after the market took solace in the company's plan to continue scaling up its expansion across Europe. Nio has provided current-quarter guidance that indicates a revenue expectation of 9.6 billion – 9.9 billion Yuan, compared with the expectation of the market, which stands at 9.81 billion Yuan.
The company also expects its vehicle deliveries to come in at 25,000 – 26,000, representing an annualized increase of 25-30%. Vehicle deliveries between 1 September – 31 December 2021 climbed 44% compared to the previous year. The company also expects to continue its robust research and development program to make it more competitive in the long term. Nio also wants to expand production to meet the faster-than-expected demand for EVs in the coming years.
Nio Stock Price Forecast
Monday's rebound in the stock is expected to carry through to retest the resistance at 22.26 (2/22 March 2022 highs). This resistance breaks the Nio stock price towards the next barrier at 24.96. 28.04 and 33.15 (6/31 December 2021 highs) will become new northbound targets if the price recovery continues beyond 24.96.
On the other hand, rejection at 22.26 could lead to another pullback move, which could put pressure on the 17.87 support level. A breakdown of this support leads to a decline that aims for the previous low of 11 March at 15.88. In addition, 12.61 represents a multi-month low, preceded by the 15 March 2022 low at the 13.00 psychological price level. These two downside pivots are all viable targets for the bears.
Nio: Daily Price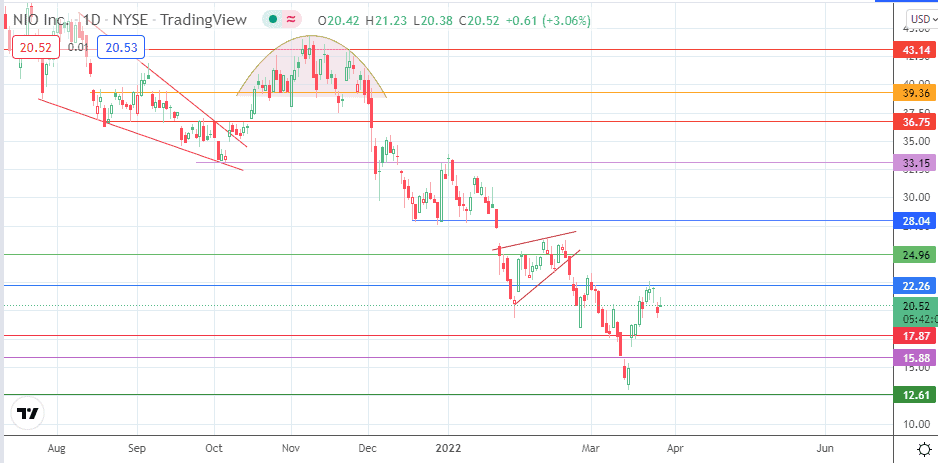 Follow Eno on Twitter.