The Polymetal share price is trading higher for the second day in a row. The company says it is considering a significant restructuring of its holding structure to avoid the impact of the UK government's sanctions.
The major point in the restructuring plan is for the company to cut off all share ownership that is linked to Russian oligarchs or the Kremlin. Consequently, according to a statement issued to Reuters, the company is considering a demerger of its mines in Kazakhstan. The request to demerge the Kazakh-based mines is said to be at the behest of other company investors.
The London-based miner also says it will consider changes to ensure that ownership of its shares is distinct wherever it operates. While Polymetal International is not directly sanctioned, its shares have lost 80% of its value in 2022. A selloff in LSE-listed mining stocks exerted a drag effect that battered the company's shares.
Polymetal produces 1.7 million troy ounces of gold equivalent, a third of which is produced by its two Kazakhstan mines. The selloff in its shares picked up steam after a US Congressman introduced a bill seeking to limit Russia's access to gold and gold markets. The Polymetal share price rose more than 38% on Monday to top the gainers' chart on the FTSE 100 and is also up 32.9% as of writing this Tuesday.
Polymetal Share Price Outlook
The 4-hour chart reveals that the price uptick has violated the 310.0 resistance and is mounting a move towards the 373.7 resistance level (1 March high). A break above this level targets 513.7 (24 February low), but there could be an intervening pitstop at the 436.5 price mark, where the 1200 hours 4-hr candle is located. 696.1 completes the immediate price targets available in a northbound direction for the bulls.
On the other hand, rejection at 373.7 allows for a pullback towards the 310.0 price mark, now acting as role-reversed support. Below this level, any further declines could find support at 212.5 before 114.9 comes into the picture as additional price support. A price deterioration below this region continues the selloff on the Polymetal share price, targeting pivots that may come in below 100.0.
Polymetal: Daily Chart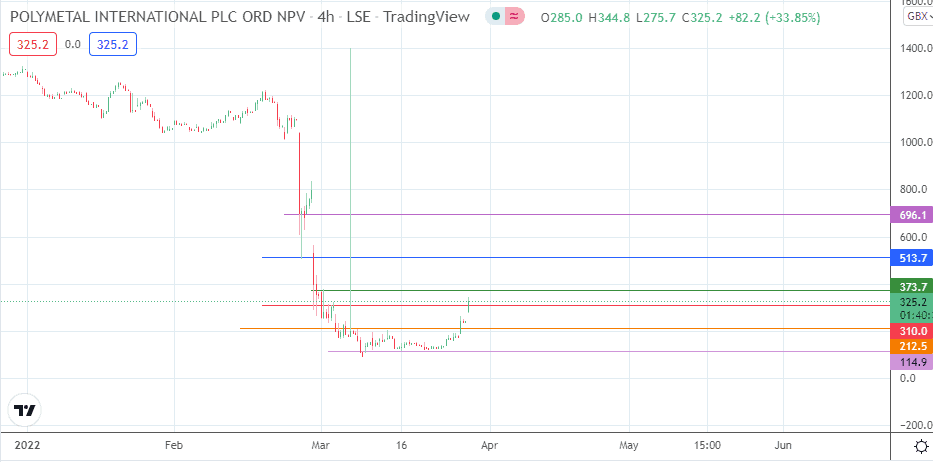 Follow Eno on Twitter.