Bullish Polygon price predictions got a boost this Tuesday after transactions involving the MATIC/USDT pair appeared on Nexo for the first time. Users on Nexo can now perform swap, trade and lending transactions using Polygon's MATIC token. This was made known in a press release on Tuesday.
Users can borrow against MATIC at a 6.9% APR. The MATIC pairs listed on Nexo include pairings with various fiat currencies (Euro, British Pound, US Dollars) and various cryptos such as Bitcoin, Ethereum, USD Coin, Tether and Binance Coin. Users who purchase MATIC on Nexo before the new year can qualify to earn daily interest of 13% – 20% maximum, subject to the promo's terms and conditions.
The listing of MATIC on Nexo is generating some demand on Polygon, with the MATIC/USDT pair rising 6.09% on the day.
Polygon Price Prediction Outlook
The bounce of the ascending trendline has pushed the MATIC/USDT pair closer to the 1.716 resistance target. If the bullish momentum carries the pair above this barrier, additional targets will come into the mix at 1.881 and 2.200 (previous double top). The 26 May 2021 high at 2.438 remains a distant upside target which only comes into the picture if 2.200 gives way.
On the other hand, a breakdown of the ascending trendline must follow price rejection at 1.716 to re-establish bearish bias. This move brings the MATIC/USDT pair in contact with 1.434, with the 200-day moving average reinforcing this pivot. If the bears surmount this downside barrier, 1.188 and 1.042 serve as additional targets to the south.
MATIC/USDT: Daily Chart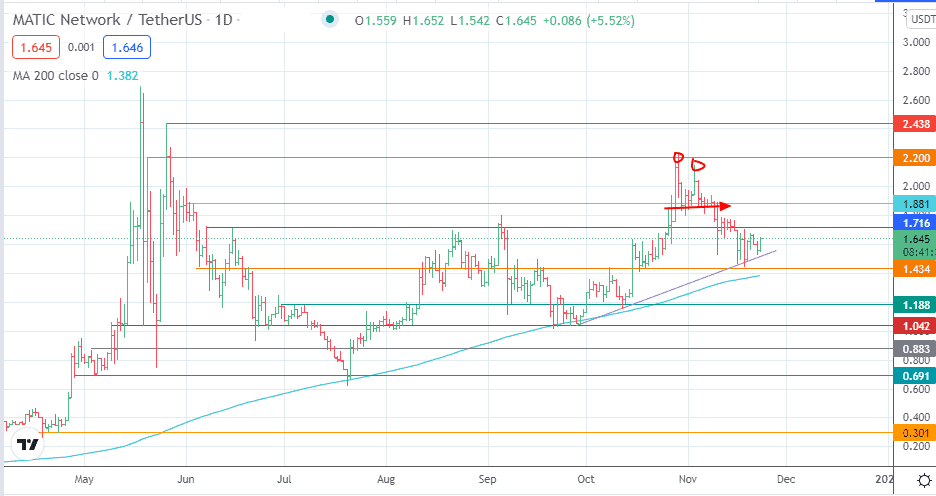 Follow Eno on Twitter.