Polygon Matic price is once again testing the yearlong trendline that started back in February 2021. In case of another bounce, bulls might target another ATH by end of 2022. However, any lower low than 24th January 2022 low of $1.306 could send Matic price to 1$.
Ethereum is currently the biggest smart contract platform and it was launched in 2015. However, the smart contract platform could not keep up with the increasing user adoption. As a result, it started facing intense congestion after some time of its launch. The leading smart contract platform could only settle 30 transactions per second, which hasn't changed much since then.
What is Polygon Matic?
When Ethereum faced intense network congestion, ideas for different scaling solutions immediately started to pop up. While many people proposed upgrades of the Ethereum Mainnet, some started working on Layer 2 solutions. The purpose of such L2 solutions was to take off the transaction load from the main Ethereum blockchain.
Funding for one such Layer 2 scaling solution, known as Matic Network, was raised via an ICO in 2019. The project was founded by Sandeep Nailwal, Jaynti Kanani, and Anurag Arjun. Top Ethereum Developer Mihailo Bjelic also joined them later as the cofounder. Polygon Matic price is currently trading at $1.39.
Polygon Network depends on a set of 100 validators to secure its blockchain by constantly feeding its data to Ethereum. Another set of 4-7 validators acts as the block producer to settle transactions on Layer 2, i.e. Polygon.
Latest Matic News Today
Matic is the native asset of the Polygon network, which is used to pay for transaction fees. As per the latest Matic News, the network currently boasts a Total Locked Value (TVL) of $3.92 billion. As per Defi Lama, most of the TVL is locked in the lending platform Aave. Due to turbulence in the crypto markets, TVL on the platform is decreasing constantly. Overall, the TVL is more than 62% down from June 2021 ATH of $10.5 billion. Although Matic price is still nearly 52% down from its ATH, the weekly chart is still looking bullish.
In January 2022, more than 7000 Dapps were running on the Polygon network. Dapp Radar shows that the DeFi and Play to Earn are thriving on the network. In terms of active users, the leading Dapp on the network is Crazy Defense Heroes, a crypto-based game. Quickswap and Sushiswap are the only DeFi platforms in the top 5. Most of the Dapps in the top 10 are crypto games like Pegaxy, Arc8, Revv Racing, Sun Farmers, etc.

Polygon Matic Roadmap
The adoption stats for Matic Network exploded in 2021. After rebranding to Polygon network in February 2021, the team also allocated a $150 million DeFi fund for liquidity mining rewards on the network. Later in June, Polygon and AU21 Capital announced another $21 million funds for the developers on the platform. As a result, Polygon Matic price increased nearly 150 folds in 2021.
The project developers appear to be not confined to only one Ethereum scaling solution. Therefore, other scaling solutions are also being developed. This includes ZK Roll-Ups and Optimistic Rolls Ups based solutions. Due to such an explosive network growth, Polygon Network overtook Ethereum on 27th September 2021 in the number of daily active users.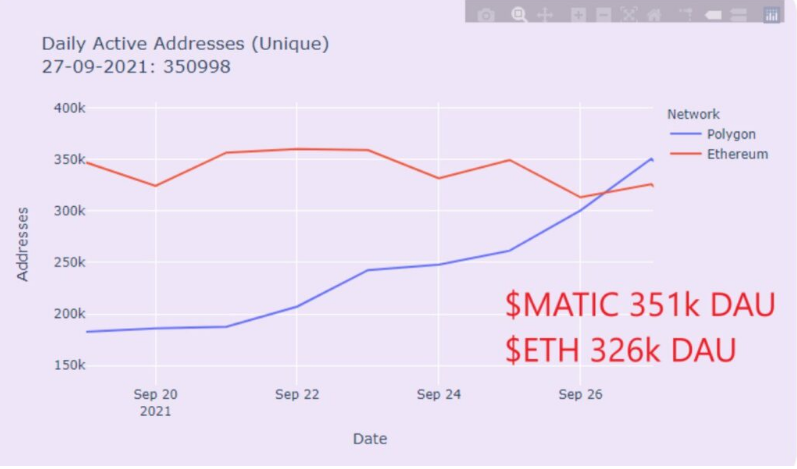 Polygon Matic Price Prediction 2022
Matic price gave more than 150x returns in 2021, making it one of the best-performing assets of this bull market. Matic price reached an all-time high of $2.92 on 27th December 2021 and is now trading at $1.39. While most L2 platforms are 60-70% down from their ATH, Matic is 52% down from its ATH. This also shows that the investors are much more confident about Polygon Network's success than any of its competitors. Let's evaluate the Polygon Matic price prediction 2022.
Matic is currently the 18th biggest cryptocurrency, boasting a market cap of $9.5 billion. An elegant pitchfork analysis shows that Matic price has just hit the bottom fork. This analysis takes its May highs and July lows into account. If the price bounces, the first target after breaching ATH will be $3.9, which lies in the upper half of the pitchfork. If the bull cycle lengthens and markets remain liquid, a $7 Matic price in 2022 is also quite possible. These price levels are also the 1.618 & 3.618 Fib levels from December highs to January lows.
With the ongoing geopolitical tension creating extra sell pressure, the price might break its yearlong uptrend. Any clear break below 24th January lows can throw these predictions out of the window. In such a scenario, bears might enjoy full control, tanking Matic price to $1.
MATICUSD Price Chart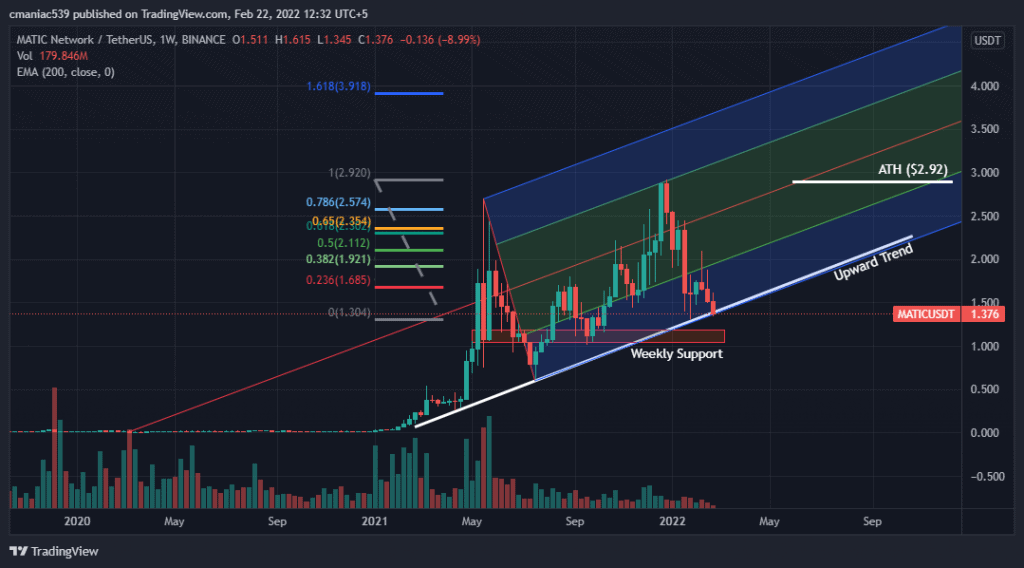 Polygon Matic Price Prediction 2025
According to Sandeep Nailwal, Matic is will soon become the 3rd biggest cryptocurrency by market cap, following Bitcoin and Ethereum. Considering the adoption of the Polygon network and extensive development on the platform, that seems entirely feasible. Moreover, the Polygon network boasts more network activity than most other blockchains. Therefore, a conservative bullish price target can be derived by comparing Matic's market cap to Binance Coin's. Bnb is currently the 3rd biggest crypto asset with a market cap of $71 billion.
If we put Matic at the current market cap of Binance Coin, we get a Polygon Matic price prediction 2025 of $10. The Bnb market cap hit $109 in November 2021. Imagining Matic at that price level will put Matic price at $15.
This is only possible if the Polygon network keeps leading in TVL and network activity till 2025, which is highly unlikely.
Polygon Matic Price Prediction 2030
A day in the crypto world is equivalent to a week in the real world. This seems right, considering how often narratives change in this nascent market. Unfortunately, this makes Polygon Matic price prediction 2030 hard to crack.
Millionaire tech investors like Raul Paul predicted Ethereum price to be $20,000 by the end of 2021. Unfortunately, Eth price failed to meet this prediction in 2021. Nonetheless, $20,000 is a decent conservative target for Eth price in 2030. This, if realized, could put Eth at an eye-popping market cap of $2.4 trillion.
On 13th January 2022, the MaticEth pair touched its all-time high level of 0.0008 Eth. If we consider Matic to be at the same level concerning Eth, then we get a price of $16. However, many analysts predict Ethereum to become the settlement layer for global finance. Such predictions put Eth at as high as $80,000 price level by 2030. If Matic remains the top Eth scaling solution, then Matic price prediction 2030 will increase accordingly.
Is Matic a Good Investment?
The latest network stats are generating a bullish outlook for Matic. Nevertheless, before investing in a volatile asset class like cryptocurrencies, please determine your investing duration. Based on the current user activity on the network, Matic appears to be a good investment for the medium term. The price has also hit the bottom of the pitchfork, presenting a good buying opportunity as well. However, before holding Matic for the next few years, a few factors must be considered.
The future of the Polygon network largely depends on the success of Ethereum 2.0. If Ethereum 2.0 solves most network issues, then the purpose of layer 2 solutions might die. Also, many other scaling solutions for Ethereum, like rolls ups are still in development. However, they can give Polygon network and Matic a run for their money.