The bearish Polkadot price predictions continue to hold sway in the market as the bearish action of the day sends the DOT/USDT price down by 1.71%. This follows two days of selling on the pair, which has reversed the recent gains that saw Polkadot rise from 17.07 to the 19.71 price mark.
Polkadot completed another parachain auction, the 15th in the series. After several trials, Litentry secured the winning bid with more than $16million raised in the auction. Completion of such auctions has previously yielded bullish outcomes for both Polkadot and the auction-winning tokens.
However, this has not been the case, as the auction was completed on a day the crypto market witnessed some significant selling. The decline in the Polkadot price shows the extent to which the crypto market has strayed away from token fundamentals to more generalized market sentiment.
Sentiment in the crypto market has been largely negative this April, after a somewhat positive run of form in March. The DOT/USDT pair surged 12.62% in March but could not hold on to gains made in early April, and it has been downhill from there. As a result, the DOT/USDT pair is currently down 17.72% in April, dampening Polkadot price predictions.
Polkadot Price Prediction Outlook
The double top on the 4-hour chart was completed following the breakdown of the 18.03 price mark and the attainment of the 17.07 support level (12/18 April lows). The accompanying bounce has met resistance at the former neckline of the pattern at 18.03. A rejection and pullback from this area targets 17.07 once more. If the bulls fail to defend this support, a drop towards 15.99 (24 January and 7 March 2022 lows) will be on the cards. Additional southbound targets appear at 14.14 (24 February 2022 low).
On the flip side, a break of the 18.03 resistance targets the 19.71 resistance barrier, where the first of the two peaks that form the double top reside. Above this level, the 7 April high forms a new target at 20.64. 21.39 (24 March and 1 April highs) and the 23.16 resistance level (5 April high) are additional targets to the north which become available once 20.64 gives way.
DOT/USDT: 4-Hour Chart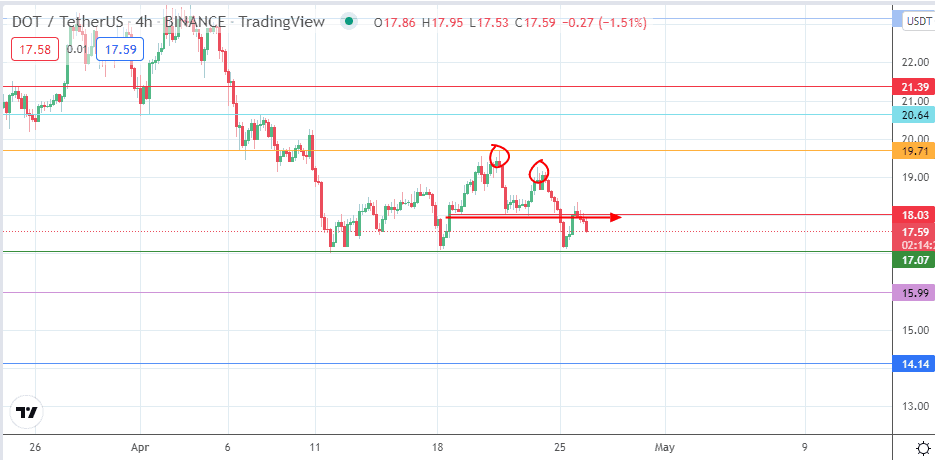 Follow Eno on Twitter.