Polestar stock price is showing a slight recovery after suffering a 56% correction from its July highs. The stock of the Swedish EV manufacturer faced further headwinds after reporting a 14-cent loss per share in its Q2 earnings report. At press time, the stock of NASDAQ: PSNY is up 8.13% and is standing at $2.6.
Since last week, bullish sentiment has been surrounding US equities due to the Federal Reserve's stance on interest rates. In last week's FOMC meeting, the FED kept the rates unchanged while indicating a rate hike in the future. As a result, the NASDAQ 100 index and S&P 500 index plunged to their June lows.
Polestar Q2 Earnings Show Increased Loss
On 31st August, Polestar reported $685.2 million in revenue, which was up by 16%. Despite an increase in revenue, a 14-cent loss per share was reported, which was mostly due to the high raw material costs. The company saw its margin drop to 0.1%, compared to 10.3% last year, due to high manufacturing costs, semiconductor supplier charges, and inventory impairment.
Recently, Barclays decreased its rating of Polestar share price from "equalweight" to "underweight" while setting $3 as the price target. According to Capital IQ, the stock of the EV manufacturer has an average rating of "hold" with a price target ranging from $1.6 to $9.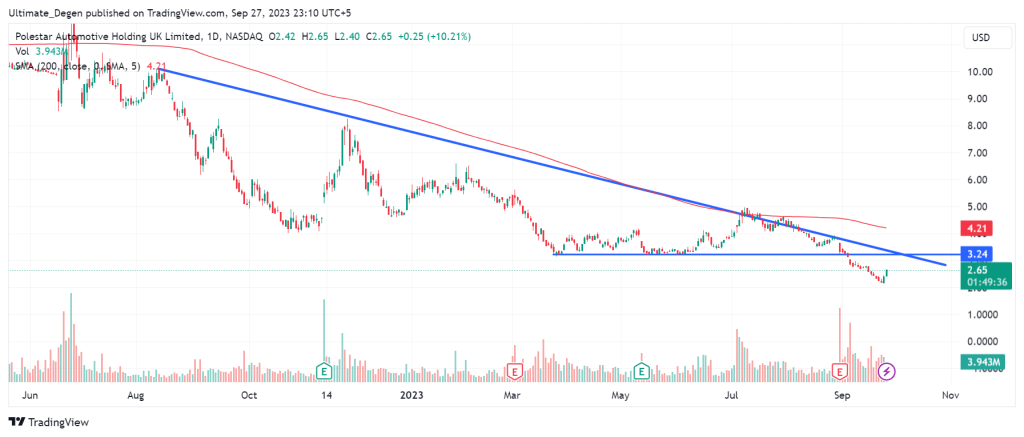 Polestar Stock Price Prediction
On the daily timeframe, the NASDAQ: PSNYW chart shows the price respecting a downward trendline since August 2022. The price also broke below the key level of $3.25 and is now sitting 19% below it. Another thing that contributes to the bearish outlook is the breakdown below the 200 MA level.
My Polestar stock price prediction will remain bearish as long as the price stays under the $3.25 key level. In case of a break above it, I expect the price to retest the 200 MA, which will be a 60% move from current levels.