The Palantir share price could be set for a higher market open after the company's revenue for the third quarter of 2021 topped estimates.
Palantir reported a 36% growth in its quarterly revenue, rising to $392 million (versus estimates of $385.02 million). Earnings per share came in at $0.04, which matched the market consensus figures. The company has also provided positive forward guidance for the 4th quarter, as it expects sales of $418million versus estimates of $401.87 million. It also says that it expects to notch full-year sales of $1.527 billion, which will exceed forecasts of $1.51 billion if achieved. 
The premarket release of the earnings report could lead to a higher opening in the PLTR share price. The stock had closed the previous day on a solid footing, adding 2.88%. 
PLTR Share Price Outlook
Monday's bounce on the 26.24 support has provided an impetus for a forward push towards 27.59 (15 March and 28 June highs). Above this level, 30.03 and 31.30 (8 December 2020 high) are additional targets to the north. If these levels are breached, 33.51 becomes the new target. However, the PLTR share price remains far below the 2021 highs at 45.00 (21 January 2021 high).
On the flip side, the bears could get some impetus if the price breaks below the 26.24 support. This move would open the door towards the 24.26 support level, but the bears would have to overcome the dynamic support provided by the 200-day moving average to achieve this. A further decline targets 22.61, leaving the 6 August 2021 low at 21.79 as an additional downside target. 
PLTR: Daily Chart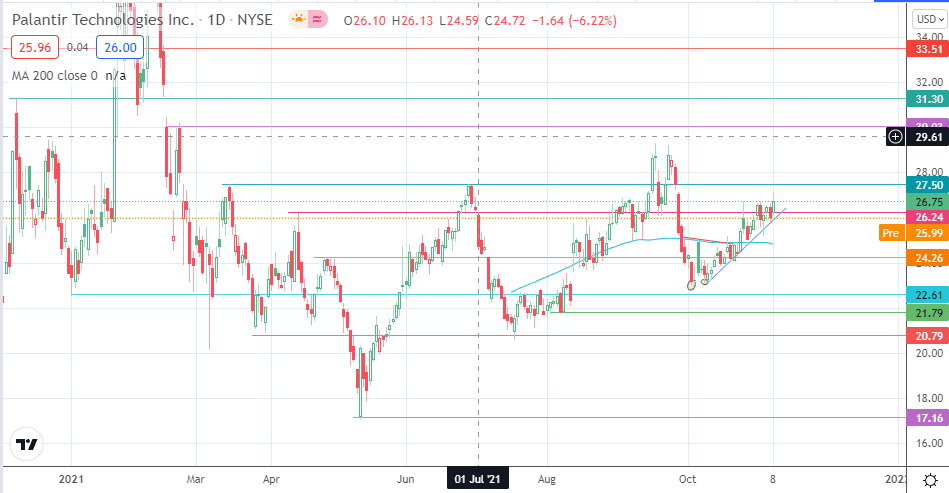 Follow Eno on Twitter.