Pi Network made headlines on Thursday after a surprise listing by Huobi, one of the biggest exchanges in the world. The Pi token that Huobi listed soared to a high of 62.1 USDT  before settling at about $50. However, there are still concerns about the Pi token that Huobi listed.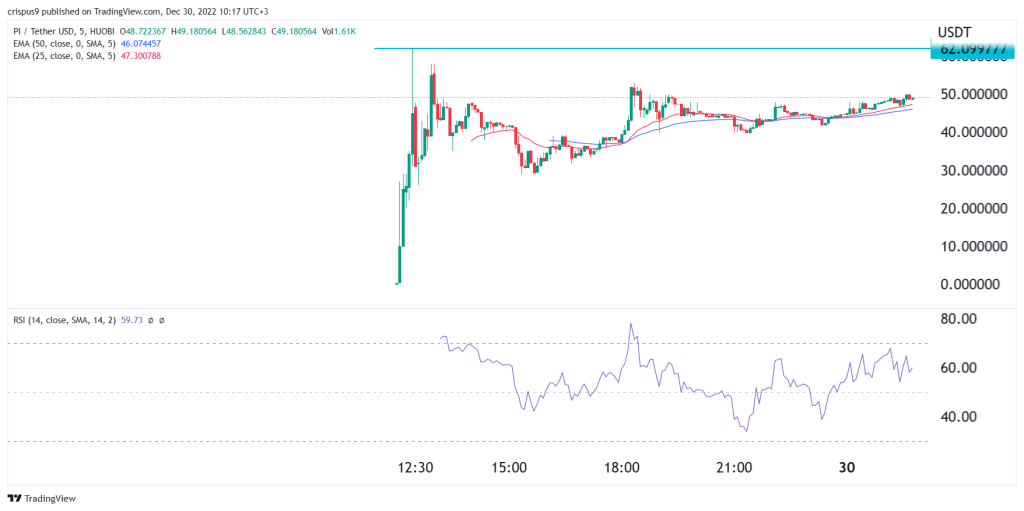 Did Huobi list Pi Coin?
Earlier this week, Huobi made headlines when it announced that it was considering listing Pi Network's coin. This was a major announcement since Huobi is one of the biggest global crypto exchanges. It also has a clean reputation. As such, its announcement caused excitement among the millions of Pi coin holders.
For years, most Pi holders have been waiting for a time when the coin would be listed in exchanges so that they can cash out. However, it seems like the Pi coin that Huobi listed was not the one created by the team. A tweet from the developers said that Pi was still in its enclosed mainnet with no exchange listing permitted.
The situation was further confusing after Huobi tagged the main Pi Team's Twitter account celebrating the listing. The exchange is even running an airdrop whose distribution will happen on January 1st of this year.
Is it safe to buy Pi on Huobi?
The Pi listing on Huobi and other exchanges shows the risks involved in buying and selling crypto tokens even on well-known and trusted brands in the industry. At this stage, it would not be recommended to buy the Pi coin that has been listed in the exchange. For one, Pi holders cannot even sell the holdings in their wallets.
As I have written before, Pi Network seems like a well-orchestrated scam that has been embraced by millions of people. Over 50 million people have downloaded Pi's mobile application and 10 million others installed its browser.
This mining has created an unlimited supply. As such, when the real listing happens, I suspect that every holder will rush for the exit. We saw this with the disappointing launch of Sweatcoin and Aptos. While these coins were highly hyped before their launch, they all plunged to a record low.