The Pearson share price has made a blistering start to the week. However, it has opened slightly lower on Wednesday, due more to profit-taking than anything else. What is responsible for the surge in the Pearson share price seen on Friday 11 March and Tuesday 15 March? The multinational educational publisher has been the subject of takeover interest from US-based Apollo Global Management.
Apollo first expressed takeover interest in November 2021, offering a price of 8 pounds for every Pearson share. A renewed offer was made on 7 March 2022, this time at a buyout price of 8.542 pounds per share. This information was made available via a public statement by Pearsons. However, the company also said it rejected both offers unanimously, as it felt that both offers undervalued the company.
Pearsons says it is open to reasonable offers, and this gives Apollo till 8 April to announce a new proposal for the company, following the laws guiding the London Bourse. The Pearson share price gained 18% on Friday and another 8.65% on Tuesday. It is presently down 0.65% as of writing.
Pearson Share Price Outlook
The price activity shows a resistance test at 827.6 (13 July 2021 and 3 August 2021 highs). If the bulls uncap this resistance, the door will open for a renewed advance that will challenge the 883.6 barrier (18 May 2021 and 31 July 2021 highs). On the other hand, a rejection at the 827.6 resistance mark opens the door for a pullback to test 794.8. If the bulls fail to defend this support level, 748.4 will become the next logical target. Other pivots are seen at 692.2 and 642.0, and these only become viable if the correction is steep.  
Pearson: Daily Chart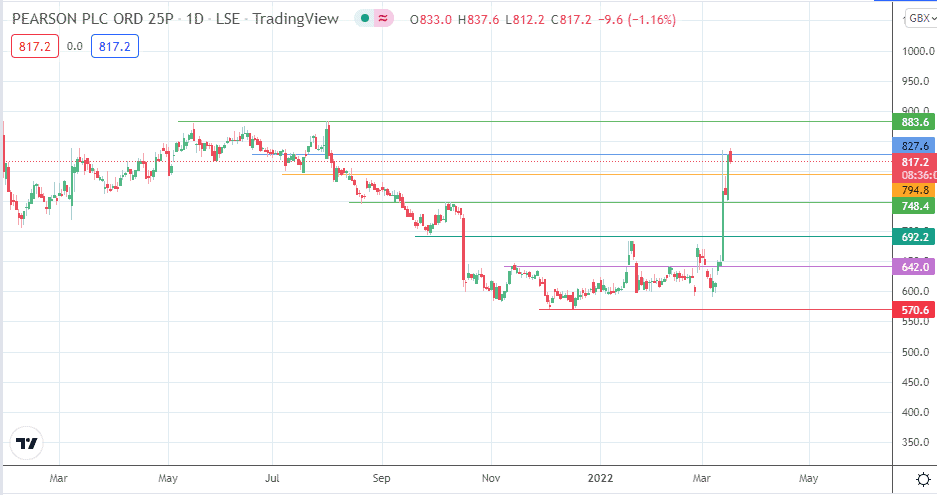 Follow Eno on Twitter.