Monday's decline in the crypto market has caught up with the OGN/USDT pair, dampening any further bullish Origin Protocol price predictions. The intraday decline of 11.6% has violated the support at 0.7318, rendering the sanctity of this support level in question.
Bullish Origin Protocol price predictions were stoked by a three-day solid rally in the OGN/USDT pair. The pair was practically unheard until this weekend when the big rally on Apecoin drove collateral investor interest into the new meta token known as Origin Protocol. In the week ended on Sunday 20 March, the Origin Protocol gained 130.36% to take a spot among the top-performing cryptos of that week.
The Origin Protocol offers a marketplace for non-fungible tokens (NFTs) sales. It provides a native coin (OGN) and a USD-backed stablecoin (OUSD). The company has announced a series of collections with its inaugural partners, kicking off with an NFT set known as Lucky Ducky. The company also says it will launch a treasure hunt for the community and host the first meme-Olympics to commemorate the launch of the Origin Story.
Origin Protocol Price Prediction
The 0.7318 support remains vulnerable at this time. A breakdown of this level allows for a retest of the 0.5951 support (lows of 20/31 December 2021). If the bulls fail to defend this new support, 0.4918 comes into the picture as the next downside target. Additional targets to the south at 0.4098 and 0.3156 only become viable if 0.4918 is degraded.
On the other hand, a rejection of the breakdown move at 0.7318 could prompt renewed demand, sending the OGN/USDT pair towards the 0.8989 price resistance. This resistance barrier needs to be taken out for the bulls to launch a push towards 0.9536 (4 October 2021 high). The attainment of the 1.0903 resistance barrier (5/18 November 2021 and 1 December 2021 highs) will be the first foray back above the $1 mark in more than three months, and this level becomes a viable target if 0.9536 is breached.
OGN/USDT: Daily Chart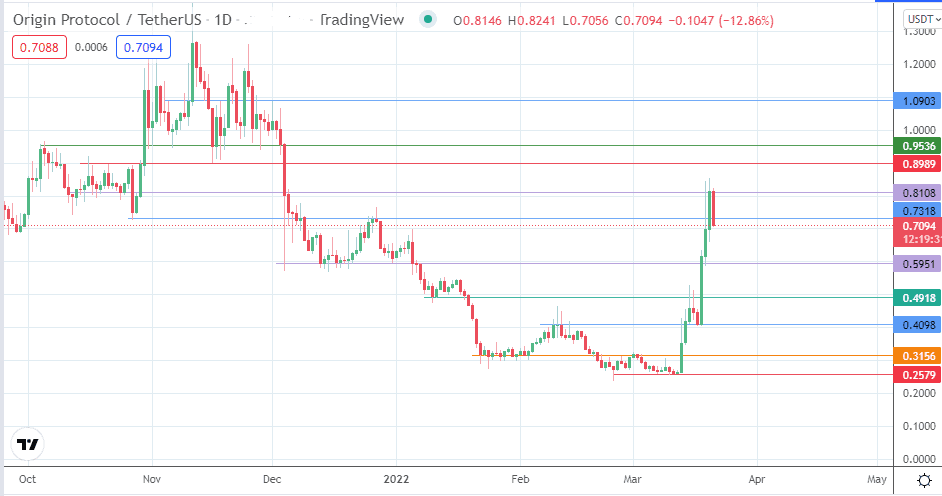 Follow Eno on Twitter.