The OMG Price violently crashed 40% from Thursday's high after an expected short-squeeze failed to deliver as predicted. OMG network (OMG) hit a low of $11.15 on Friday before bouncing to $13.19 (-22.35), causing chaos amongst new-minted longs who wrongly guessed that short derivatives position and an incoming airdrop would propel the spot price higher.
Well-known traders take a hit

Several significant crypto influencers and many more retail traders got caught offside on Friday when OMG continued yesterday's reversal. It appears traders grew over-confident that several potentially bullish factors would work to their advantage. The above Tweet from a well-respected crypto trader and analyst highlights several reasons the bullish set-up looked promising. However, the price action failed to play out as expected, leaving many nursing losses.
Price Analysis
The daily chart shows the OMG price was close to breaking out above $20.00 yesterday. However, the reversal has now left a bearish double-top pattern, which becomes the most significant resistance level.
Below the market, $11.40 is the initial support (briefly pierced this morning), followed by the 100-DMA at $10.57. And should the 100-DMA fail to stem the bleed, the 200-DMA at $8.15 is the last line of defence.
How the price reacts depends on whether longs will diamond-hand this one out or liquidate if the price continues lower. In my opinion, the latter is more likely and therefore, I expect the selling to accelerate. However, that may present an attractive entry price sometime in the future. But, in the current environment, the best plan is to wait for the price-action to normalise before making a trading decision.
OMG Price Chart (Daily)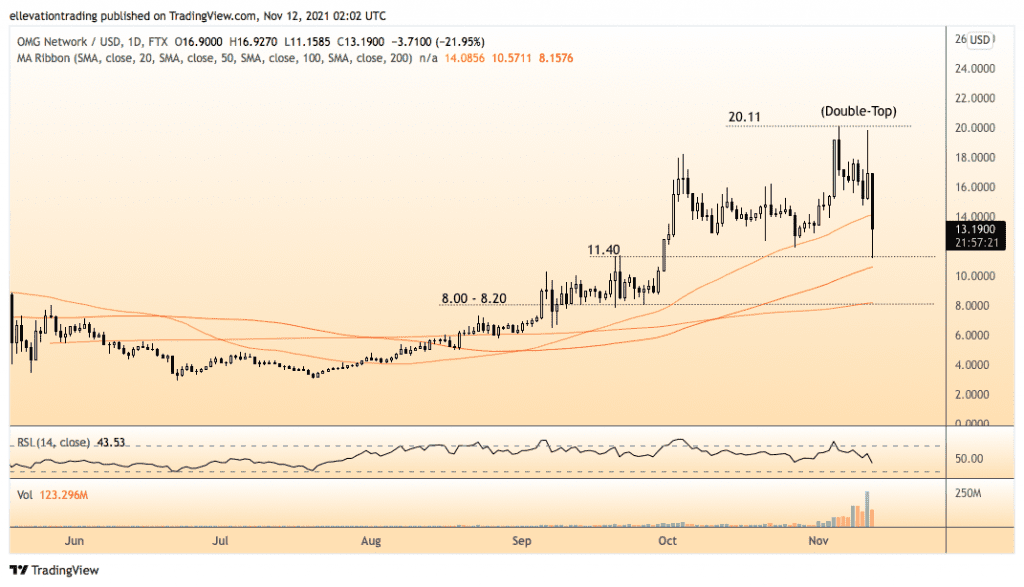 For more market insights, follow Elliott on Twitter.