Ocado price action has shown modest intraday bullishness, as UBS bank provides a cautiously optimistic outlook for the online grocery fulfilment company. UBS has indicated that Ocado remains the most credible online grocery platform but will face some growing challenges as more competitors providing micro-fulfilment services angle for the company's market share.
Some of this competition is occurring in Australia and the US, where companies such as Takeoff Technologies and Albertsons are rolling out competing micro-fulfilment centres.
UBS has cut its price target for Ocado from 2300p to 2100p, maintaining a rating of "neutral" for the stock. This price target allows the Ocado price action some room to the upside, which is good news for those still bullish on the stock.
Ocado's price is up 0.68% on the day, truncating any further losses after three previous losing sessions.
Ocado Price Prediction
The decline from the 2077.5 resistance completed the butterfly pattern, with a drop that eventually found support at the 1898.0 support level. The current price picture features a bullish harami, but a bullish outside day candle is required to confirm the upside push from this pattern. If this occurs, 1995.0 is the next upside target, followed by 2077.5. Only when the latter is breached can 2135.0 become available.
On the other hand, a breakdown of 1898.0 continues the decline, with 1861.5 and 1825.5 lining up as the immediate downside targets. Point C in the completed butterfly pattern at 1768.5 becomes a new target if the decline takes out 1825.5.
Ocado Price (Daily) Chart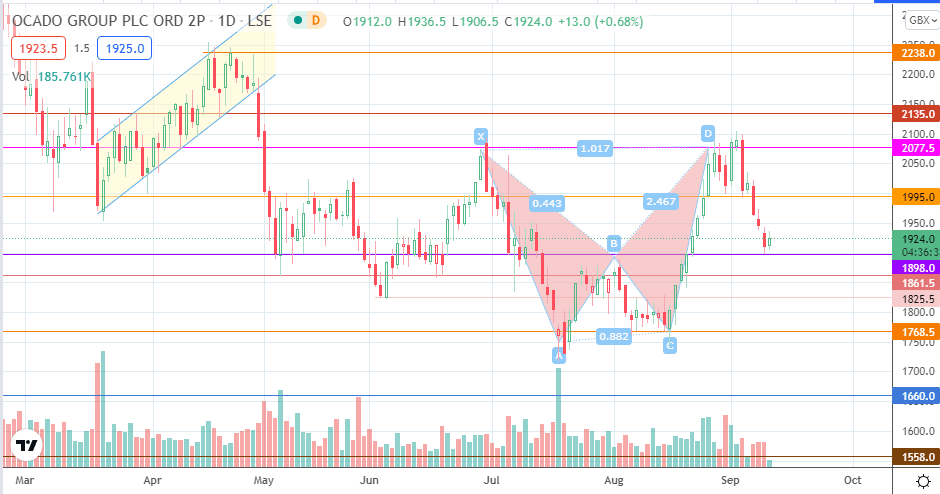 Follow Eno on Twitter.