The Nvidia share price has dropped by 32 percent since November 22, 2021, when the current long-term bearish trend began. Today, the shares are trading at $233, a percent drop from yesterday's closing prices.
Nvidia Industry Analysis
To understand why Nvidia share prices have been steadily declining, we have to put recent events such as chip shortage into context. Late last year, reports started emerging about Chip shortage that affected the entire semiconductor industry, including Nvidia competitors.
However, the shortage seems to have hit Nvidia harder, resulting in a bullish trend reversal on November 22, 2021.Today, the chip maker's share prices are still struggling to reverse their fortunes, with recent prices still showing bullish signs.
Nvidia Financial Strength
Nvidia's share price had one of its best years in 2021, where it grew by more than 125 percent. Although it entered a long-term bearish trend by the end of the year, it was too late to erase the gains made throughout the year. The growth of Nvidia share price can be summarized using the daily chart below, which compares the Nasdaq-100 index between January 1, 2021, to today. The chart shows that during that period, the Nasdaq-100 index grew by 7.98 percent and was outpaced by Nvidia, which grew by 77 percent.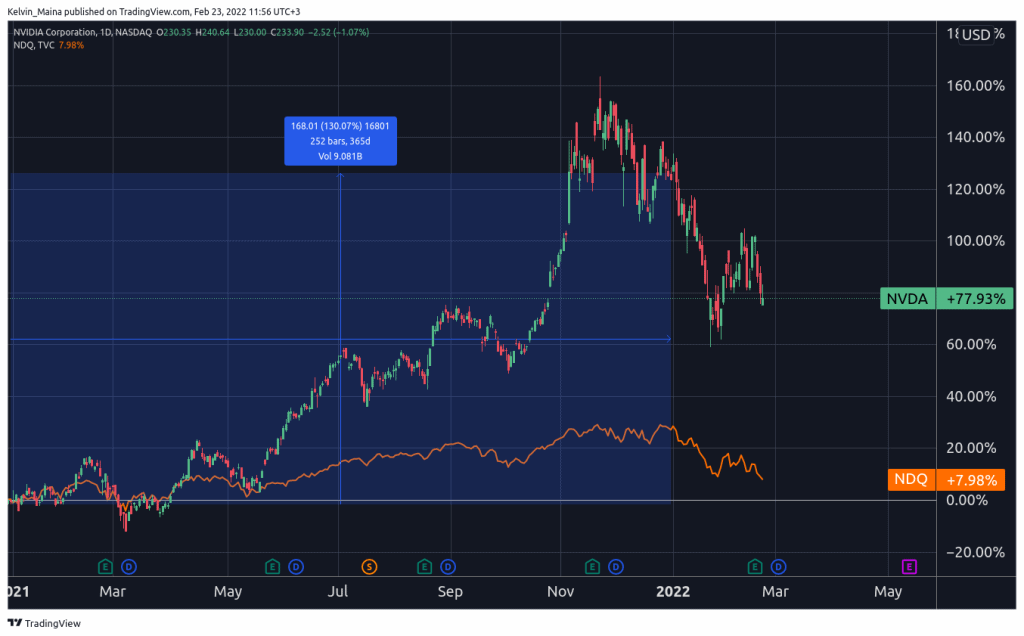 Nvidia Share Price Technical Analysis
Nvidia's technical analysis is interesting because, when the prices are placed in a broader context, Nvidia is still technically on a bullish move. However, when looking at events in the past three to four months on the daily chart, the trend becomes bearish. This is because strong bullish started to reverse on November 22, 2021, and the stock prices have not recovered since then.
Looking at the daily chart, I expect the prices to hit the $194 support level in the coming days. However, there is also a possibility that the prices will continue down towards the $179 support level. On the flip side, there is another possibility where Nvidia fails to break the ascending trendline to the downside. If this happens, then it is likely that we are nearing the end of the bearish move and starting a new bullish move.
Is Nvidia a good investment?
Nvidia remains a prospective investment candidate for long-term investors. The share prices, although currently struggling, are still in a very long-term bullish trend, and the prices are likely to have picked the pace by the end of the year.
Nvidia Share Price Daily Chart