The Nio share price has experienced a nightmare start to December after news of Beijing-based ride-hailing giant Didi Global Inc's delisting from the New York Stock Exchange hit the newswires last week. DIDI's delisting from the NYSE in favour of the Hang Seng index marks another chapter in the frosty relationship between Washington and Beijing, after the latter's recent crackdowns on several sectors has left several US-listed Chinese stocks standing on shaky ground.
The contagion from the news spread to several Chinese EV stocks, with the Nio share price plunging from $41.31 to an intraday low of $29.66 on 6 December.
A rise in November deliveries from a year ago by 106% has not helped to lift sentiment around the Nio share price. Despite a bullish gap that has allowed for a 6.04% higher open on Tuesday, the stock remains under bearish pressure as it struggles to break a 6-day losing streak.
Nio Share Price Outlook
The bullish gap has sent the Nio share price above 7-month lows. However, this gap has met resistance into the 34.64 price mark. This scenario sets the stage for a potential decline towards 32.50. It also leaves 30.68 (13 May low) firmly in the picture as a candidate for a possible retest by the bears.
Only if the bulls can generate enough momentum to achieve a penetration close above the 34.64 resistance can there be a chance to retake the 35.91 resistance mark. If this barrier is uncapped, 39.33 and 41.31 become additional targets to the north.
Nio: Daily Chart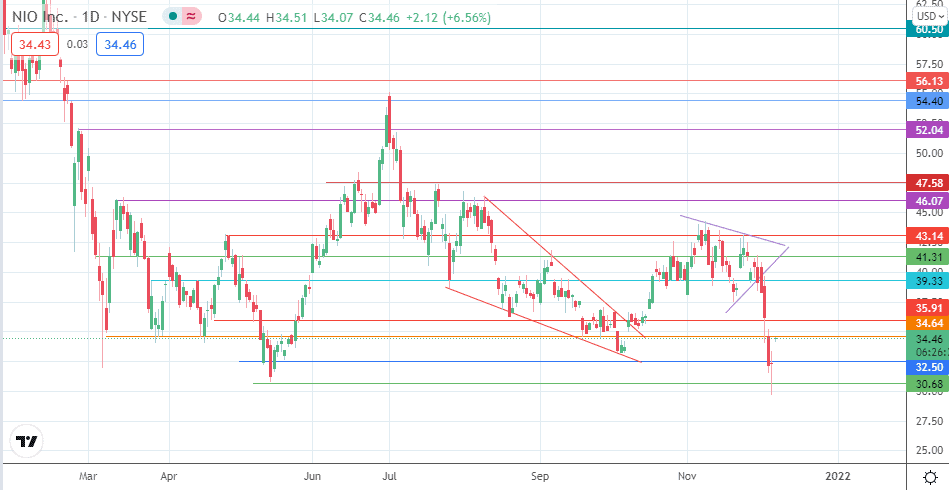 Follow Eno on Twitter.