The Nio share price opened higher on Tuesday after Li Autos said it tripled its third-quarter sales when compared to the same period a year earlier. 
The announcement indicates a buildup in demand for electric vehicles among Chinese consumers. Li generated revenue of $1.2billion, but this was less than the $1.5billion in sales that Nio generated for selling a lower amount of cars, indicating that Nio has upside potential on its revenues if it can push its sales figures higher. 
Wall Street analysts remain bullish on Nio, even as the company signed a new partnership with Shell to develop new charging infrastructure for electric vehicles in Europe. The deal will see 100 co-branded battery swap stations built in China in the next four years, and both companies will also install charging stations in each other's facilities.
The Nio share price is up 0.69% on the day.
Nio Share Price Outlook
The evolving symmetrical triangle on the daily chart shows a potential resistance within it at 41.31. If the price candle tops this barrier, the bulls would need to overcome the next resistance at 43.14 to complete the upside break. This move opens the door towards 46.07, with 47.58 expected to serve as the completion point of the measured move.
On the other hand, rejection at 41.31 and a subsequent pullback puts the 39.33 support (and the triangle's lower edge) under pressure. If the bulls capitulate to the downside pressure from the bears, the gates would open for a move towards 35.91. 34.64 and 32.50 are also potential downside targets if the breakdown move is extensive. 
Nio: Daily Chart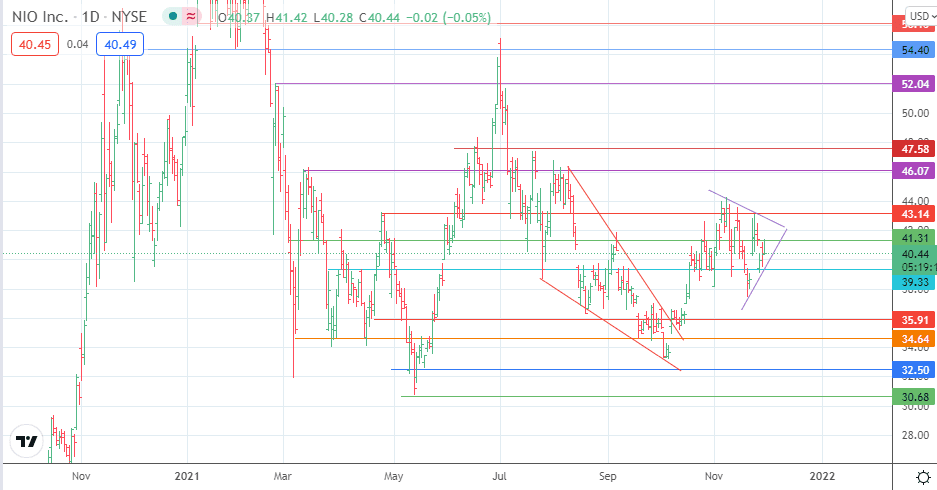 Follow Eno on Twitter.