The Nio share price has started trading for 2022 on a negative note. This is more of a spillover from the negative sentiment generated by the Evergrande situation and not by the company's fundamentals.
After successfully launching its ET5 electric vehicle model, Nio delivered 10,489 cars in December to notch a 50% year-on-year increase in its car deliveries. The company had delivered 25,034 cars in the 4th quarter and 91,249 cars in 2021. This more than doubled its car deliveries.
The 5.71% selloff on the day comes as the double bottom pattern attained completion at the 32.50 resistance, with the formation of a doji.
Nio Share Price Outlook
The intraday decline has violated the support at 32.50. If the price decline fulfils the 3% downside penetration close filter, the bears would be primed to move towards 29.25. Below this level, the troughs forming the completed double bottom enter the picture to create a new potential pivot at 28.04.
On the flip side, a bounce on the 32.50 off a failed break below 32.50 opens the door for a potential push towards 35.04 (8 December high). Only when this target is exceeded can 36.75 becomes an additional barrier to the north. Attainment of the 39.36 resistance level requires a break of 36.75, with 43.14 also forming another upside target. The 25 October and 30 November highs at 41.33 may form a potential pitstop.
Nio: Daily Price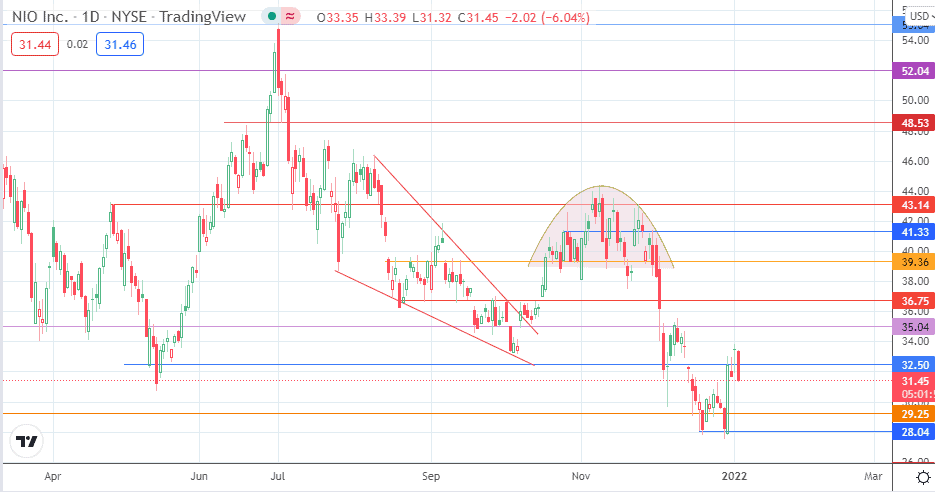 Follow Eno on Twitter.