The housing market in the US and other developed countries is facing its biggest test in more than a decade. Recent data suggest that the industry is struggling, which has pushed more people to worry about the next housing crash prediction. In this article, we will look at the state of the housing market and see whether the bubble will burst this year as homebuilder stocks crash.
Is the housing market in a bubble?
Home prices have surged sharply in the past few years. Data published this week revealed that the median home price in the US surged to an all-time high of over $402k in May. This was a substantial increase considering that the US median household salary is over $69,000.
As a result, it would take a median household almost 7 years to buy a home if they spent all their salaries on housing. But with most Americans living paycheck-to-paycheck, it has become incredibly difficult for most people to afford homes.
However, the current surge in home prices is different from what happened in 2008. At the time, a surge in home prices was driven by the subprime mortgages that most companies were offering. The current surge is mostly because of the ongoing supply and demand imbalance. While demand has risen, supply has been under pressure because of the rising inflation and supply chain challenges.
Next housing crash prediction
Recent data show that the housing market is moderating. For example, data published last week showed that the country's housing starts and building permits declined sharply in May. Meanwhile, data released this week revealed that existing home sales fell by more than 3.4% in May. The new home sales data that will be published on Friday are expected to show that they dropped sharply.
Meanwhile, results by KB Home and Lennar published weak results. As shown below, stocks of homebuilder stocks like KB Home, Lennar, and D.R Horton shares have crashed by more than 30% this year alone. This is a sign that most investors believe that the next housing crash will happen.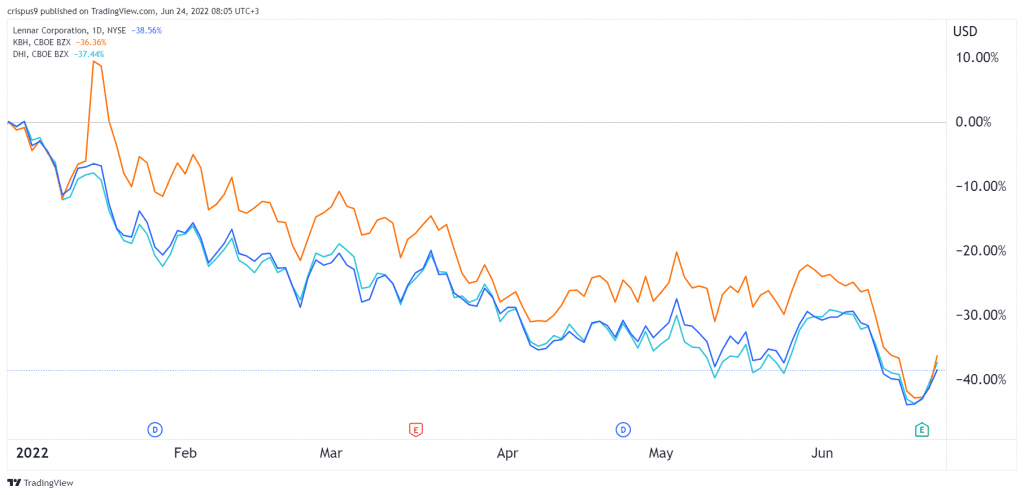 Now, with the Federal Reserve hiking interest rates, there are concerns that the trend will continue worsening. The Fed has already hiked interest rates by 150 basis points this year and analysts expect that more hikes are coming. As a result, mortgage rates have risen to 6%. And in a statement, Jerome Powell said that the bank wanted to bring housing to a sustainable path.
Therefore, it is still unclear whether the next housing crash will happen this year. Analysts believe that home prices will moderate sightly this year as demand eases. However, a crash in the magnitude that we saw in 2008 will likely not happen.