The EasyJet share price tanked on Wednesday, marking the third day of losses as travel stocks continue to get sold off on the back of a slowdown in the easing of restrictions. The budget airline's stock is also facing headwinds on other fronts.
News that Morocco was cancelling flights to and from the UK amid surging COVID-19 cases has put a new dent in EasyJet's efforts at recovering its passenger traffic to pre-pandemic levels. EasyJet operates flights from the UK to Agadir and Marrakech in Morocco and is a favourite of UK tourists.
The EasyJet share price is down 3.59% as of writing.
EasyJet Share Price Outlook
The EasyJet share price has taken out the 607.8 support to advance the measured move from the double top's completion. The completion point of the pattern's measured move is at the 556.0 support (13 September low). An additional decline allows the bears to aim for 506.4 and 472.0.
On the flip side, a bounce on the 556.0 support retests 607.8 (acting as resistance). 655.8 and 692.8 remain as additional barriers to recovery. If the price scales these barriers and the 200-day moving average at the 739.4 resistance level, the recovery move regains bullish momentum, allowing 796.2 to become a new upside target.
EasyJet: Daily Chart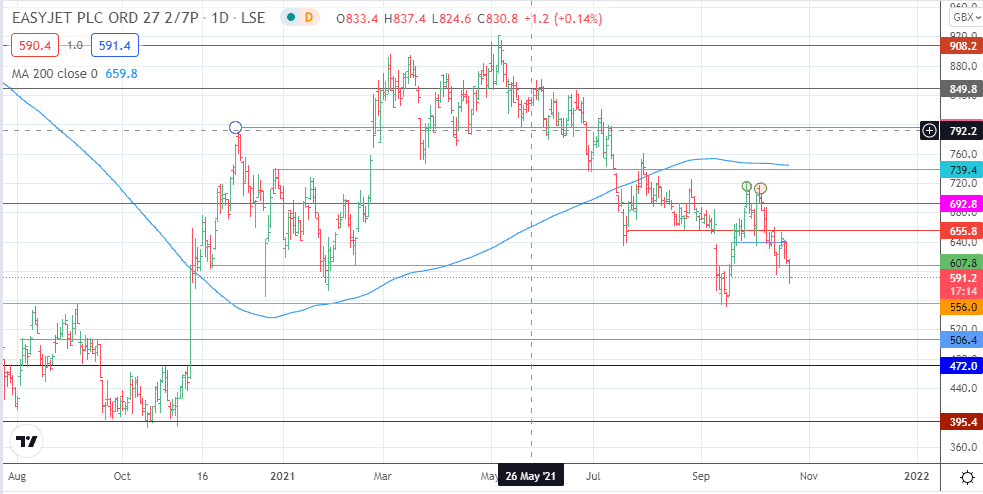 Follow Eno on Twitter.