The bullish Loopring price predictions which pervaded the market in December have all but dried up after the price action for December, and January 2022 ended up being bearish. These predictions came from the purported linkup between GameStop and Loopring. This partnership has not materialized, and the downside was inevitable in the absence of new catalysts.
Today, nothing new has emerged to indicate that the rumoured partnership between GameStop and Loopring will ever happen. Yes, GameStop will develop an NFT marketplace, but it is unclear if Loopring will ever have a role in it.
The crypto market continues to endure a downturn, and if things do not improve quickly, tokens like Loopring may bear the brunt, especially as the expected March rate increase by the Federal Reserve makes fiat-dollar-denominated assets more attractive. Is there any hope of bullish Loopring price predictions coming back into the fray?
Loopring Price Prediction
The bulls need to mount additional momentum to take the LRC/USDT pair towards the 1.3749 resistance, which serves as the initial upside target. The 1.0905 support level seems to be holding after being tested in the last two trading sessions without being broken. An advance beyond this level takes the pair towards 1.6021, leaving 1.7115 and 1.9461 as the additional northbound targets.
On the flip side, a decline below the 1.0905 support brings 0.7596 into the mix as the next downside target. Below this level, 0.5250 and 0.3478 line up as the additional targets to the south.
LRC/USDT: Daily Chart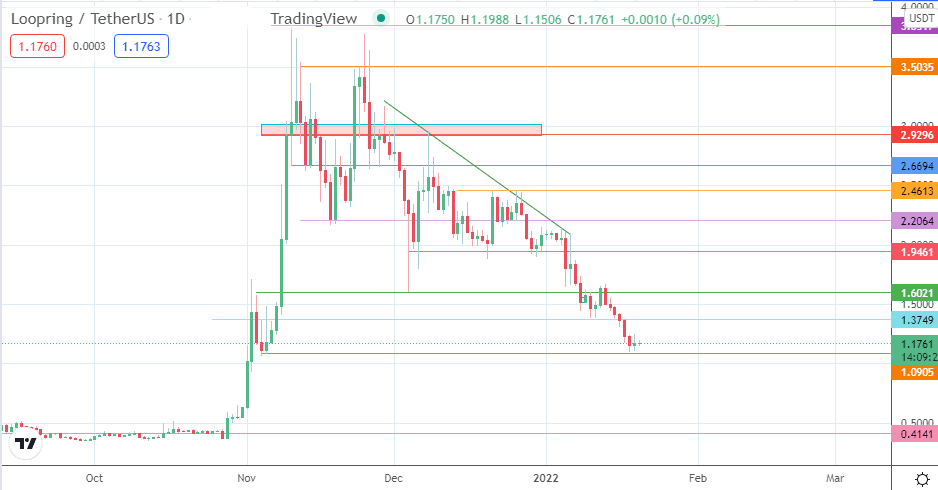 Follow Eno on Twitter.